Publication:
Concurso de consumidor y declaración conjunta de concurso voluntario de cónyuges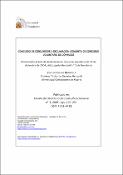 Advisors (or tutors)
Editors
Abstract
La reciente reforma de nuestro Derecho Concursal no ha prestado suficiente atención al concurso de consumidor. Es necesario reflexionar sobre las posibles necesidades de protección del consumidor, para proponer, cuando proceda, una regulación específica o reformas en la Ley concursal. (Abstract)The recent reform of our Bankruptcy Law has not paid attention enough on the consumer bankruptcy. It's necessary to think about the potential needs of consumers protection, in order to propose, where appropriate, specific regulations or reforms of Bankruptcy Law.
Collections