Publication:
Identificación de un perfil de riesgo cardiovascular en población joven y evaluación del mismo a lo largo de la edad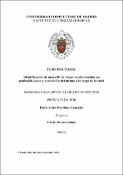 Files
Authors
Advisors (or tutors)
Editors
Publisher
Universidad Complutense de Madrid
Abstract
La enfermedad cardiovascular (CV) es la primera causa de muerte en el mundo pese a los avances en materia de prevención. La principal causa subyacente es la aterosclerosis: una enfermedad crónica, sistémica e inflamatoria, que afecta a arterias de mediano y gran calibre. El proceso aterosclerótico cursa durante décadas de manera asintomática y silente, pudiendo resultar en un evento CV repentino con consecuencias potencialmente fatales. En los últimos años se han desarrollado varios estimadores de riesgo cardiovascular (RCV), la mayoría de ellos a corto-medio plazo (5-10 años), basados principalmente en edad, sexo, niveles de colesterol, hipertensión y tabaquismo. Sin embargo, estos estimadores tienen limitaciones ya que la mayoría de los pacientes con bajo RCV estimado a corto plazo muestran por el contrario un alto riesgo cuando se calcula a largo lo largo de la vida (Lifetime Risk, LTR). Por otro lado, ya que el impacto de los factores de riesgo tradicionales cambia con la edad, el uso de los estimadores actualmente disponibles en todos los grupos de edad puede ser inapropiado, particularmente considerando que éstos se desarrollan generalmente en sujetos de mediana edad. En el caso de la población joven, el RCV está particularmente subestimado al ser la edad uno de los factores que más contribuyen en estos algoritmos...
Cardiovascular disease is the leading cause of death worldwide despite improvements in outcomes. The predominant underlying pathology is atherosclerosis, a chronic and systemic immunoinflammatory disease of medium and large sized arteries. Formation of an atheroma plaque and progressive arterial obstruction takes place silently and asymptomatically, which in many cases results in a sudden event with potentially fatal consequences. Different algorithms are available to estimate cardiovascular risk (CVR) in apparently healthy persons in the short-medium term (5-10 years), mainly based on age, gender, race, cholesterol levels, blood pressure and smoking habits. However, estimations in the short-medium term have limitations since the majority of patients withlow CVR over the next 10 years show high risk at long-term if the estimation is calculated along their likely remaining lifetime (Lifetime Risk, LTR). The impact of traditional risk factors on cardiovascular events changes with age, and thus the application of currently available estimators to all age groups may be inappropriate, particularly when considering that they are mainly developed in middle-aged subjects. Moreover, as age is one of the most contributing factors in these algorithms, CVR is particularly underestimated in young population...
Description
Tesis inédita de la Universidad Complutense de Madrid, Facultad de Ciencias Químicas, leída el 13-06-2022
Collections