Publication:
Factorization of second-order elliptic boundary value problems by dynamic programming.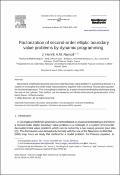 Advisors (or tutors)
Editors
Abstract
We present a method to factorize a second-order boundary value problem in a cylindrical domain in a system of uncoupled first-order initial value problems, together with a nonlinear Riccati-type equation for functional operators. This uncoupling is obtained by a space invariant embedding technique along the axis of the cylinder. This method can be viewed as an infinite-dimensional generalization of the block Gauss LU factorization.
Citation
E. Angel, R. Bellman, Dynamic Programming andP artial Differential Equations,Academic Press, NewYork,1971. E. Angel, A. Jain, Initial-value transformations for elliptic boundary value problems, J. Math. Anal. Appl. 35 (1971) 496–502. K.J. Aström, B.Wittenmark, Computer-ControlledSystems:Theory andDesign, Prentice-Hall, Englewood Cliffs, NJ, 1984.[4] R. Bellman, Dynamic Programming,Princeton University Press, Princeton, NJ, 1957. A. Bensoussan, Filtrage Optimal des Systèmes Linéaires,Dunod, Paris, 1971. J. Henry, On the factorization of the elasticity system by dynamic programming, in: J.L. Menaldi, E. Rofman,A. Sulem (Eds.), Optimal Control and Partial Differential Equations, IOS Press, 2001, pp. 346–352. J. Henry, J.P. Yvon, On the use of space invariant embedding to solve optimal control problems for second order elliptic equations, in: J. Doleˆzal, J. Fidler (Eds.), System Modelling and Optimization, Chapman & Hall, London, 1996, pp. 195–202.
Collections