Publication:
El régimen jurídico de la protección del Patrimonio Arqueológico en la Ley 4/2013 de Patrimonio Cultural de Castilla-La Mancha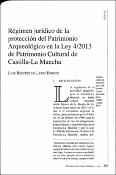 Authors
Advisors (or tutors)
Editors
Publisher
Asociación Hispania Nostra
Abstract
Este trabajo analiza el marco normativo de la Arqueología y su gestión en Castilla-La Mancha. Se aporta una revisión crítica tanto de la situación actual como de la anterior, que ha mediatizado la gestión arqueológica regional a lo largo de las últimas décadas. La discusión se centra en algunas de las principales novedades aportadas por la Ley 4/2013 de Patrimonio Cultural de Castilla-La Mancha. Es el caso de la colaboración de las entidades locales y los particulares sobre la materia, los órganos asesores, las nuevas figuras de protección, el Catálogo y el Inventario del Patrimonio Cultural, el deber de conservación y permiso de acceso a bienes culturales, las autorizaciones de trabajos arqueológicos, los plazos de respuesta administrativa, las reconstrucciones de inmuebles, el papel de los funcionarios de Arqueología en su consideración como agentes de la Autoridad y el tratamiento de los detectores de metales. Se concluye el trabajo con unas reflexiones sobre el papel y las actuaciones de los principales agentes en materia de Patrimonio Cultural de Castilla-La Mancha.
This paper analyzes the Archaeological management and legal framework in Castilla-La Mancha (Spain). This work provides a critical review of both the current and the previous scenes. The discussion focuses on some of the major innovations introduced by the Law 2/2013 of Cultural Heritage of Castilla-La Mancha. This is the case of the colaboration of local entities and people on the matter, the advisory organs, the new figures of protection, the Catalog and Inventory of Cultural Heritage, the duty to conservation and permit the access to cultural goods, the autorizations of archaeological works, the Administration response times, the reconstructions of buildings, the role of officials in Archaeology in their consideration as agents of the Authority and the treatment of metal detectors. This paper concludes with some considerations on the role and actions of the main players in the field of Cultural Heritage in Castilla-La Mancha.
Collections