Publication:
Los beneficios del método madre canguro en recién nacidos pretérminos y sus madres: una revisión bibliográfica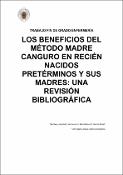 Authors
Advisors (or tutors)
Editors
Abstract
Introducción: los cuidados centrados en el desarrollo (CCD) favorecen el desarrollo neurológico y psicológico del recién nacido con su familia, donde se incluye el método madre canguro (MMC) o contacto piel con piel, descubierto en Colombia (1978) por Edgar Rey llegando a España al Hospital Sant Joan de Déu de Tarragona en 1999 y progresivamente se ha ido incorporando a los demás hospitales. Objetivos: analizar los beneficios que aporta el MMC en RNP y las madres, relacionarlo con la situación pandémica Sars-Cov2 y conocer la experiencia y opiniones de las madres. Metodología: revisión bibliográfica en bases de datos Pubmed, Scielo, Dialnet y Enferteca. . Se han incluido 50 artículos originales en inglés y español publicados en los últimos 5 años. Desarrollo: el MMC posee multitud beneficios para el recién nacido a la hora de realizar cribados, menor llanto y dolor, fototerapia, mejoría del sueño, alta precoz, y la madre que lo practique como menor riesgo de depresión postparto, mejoría de las constantes vitales así como institucionales con ahorro económico. El papel de enfermería es clave encargándose de acompañar, apoyar y enseñar el MMC. La pandemia Sars-Cov2 separó el binomio madre-hijo ante el desconocimiento de la transmisión de la enfermedad perdiéndose los efectos beneficiosos del MMC. Conclusiones: la evidencia científica consultada demuestra que la efectividad del MMC es superior en comparación con los cuidados convencionales realizados en incubadora.
Introduction: Development Centre care (DCC) provides the neurologic and psicol.ogic development from Objectives: to analyze the benefits that KMC provides in premature babys and mothers, related with Sars-Cov2 pandemic and know the mothe ́s experience and opinions. Methods: bibliografhic review in se databases Pubmed, Scielo, Dialnet and Enferteca. Have been Incluyed 50 original articles in English and Spanish published in the last 5 years. Development: KMC has many benefits for the newborn when making screening less tears and pain, phototherapy, improved sleep, early discharge, and the mother who practice it as lower risk of postpartum depression, improvement of vital signs and institutional with economic savings. The nursing role is key, taking charge of accompanying, supporting and teaching the MMC. The Sars-Cov2 pandemic separated the mother-child binomial due to the ignorance of the transmission of the disease, losing the beneficial effects of MMC Conclusions: the cientific evidence consulted shows that the effectiveness of KMC is higher in comparison with convencional care executed in the incubator.