Publication:
El efecto positivo o prejudicial de la cosa juzgada penal en el proceso penal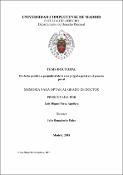 Files
Authors
Advisors (or tutors)
Editors
Publisher
Universidad Complutense de Madrid
Abstract
El mantenimiento de la paz social depende directamente de la instauración de un equilibrio óptimo entre la seguridad jurídica y la justica. El ordenamiento jurídico debe contemplar un momento a partir del cual las decisiones de los jueces y tribunales resulten inamovibles; pero, además, debe adoptar las precauciones necesarias para evitar la consagración definitiva de decisiones judiciales manifiestamente injustas. La cosa juzgada es, precisamente, el instrumento de política legislativa empleado para lograr el mencionado equilibrio. Esta institución constituye el principal efecto de la firmeza de las resoluciones judiciales, que impide que lo resuelto por los jueces y tribunales sea revisado en el mismo proceso (cosa juzgada formal), o, si se trata del fondo del asunto, en otros procesos distintos (cosa juzgada material). La cosa juzgada conoce dos funciones: la negativa o excluyente, que impide la reiteración de enjuiciamientos idénticos; y la positiva o prejudicial, que impone el respeto a las decisiones judiciales firmes en los enjuiciamientos conexos que se producen con posterioridad. Con carácter general, se afirma que sólo la conjunción de ambas funciones permite garantizar unos niveles adecuados de seguridad jurídica. Sin embargo, la doctrina y la jurisprudencia mayoritarias afirman que, en el proceso penal, a diferencia de las otras ramas del ordenamiento jurídico, la sentencia únicamente produce la función negativa o excluyente de la cosa juzgada, pero no la positiva o prejudicial. Esta convicción se sustenta en la creencia de que la función positiva de la cosa juzgada se opone a las exigencias más elementales de los principios de audiencia e igualdad, que presentan una intensidad reforzada en el proceso penal, produciendo una restricción inaceptable de la defensa del investigado-­‐acusado...
The maintenance of the social peace depends directly on the establishment of the perfect balance between juridical certainty and the Justice. The legal system must observe a certain point from which the decisions taken by judges and courts may be considered inmutable; but, at the same time, it must foster all the necessary precautions to avoid the final enshriment of manifestly unjust judicial decisions. The res judicata is, indeed, the instrument of legislative policy used to obtain the aforementioned balance. This institution constitutes the main effect on the firmness of the decisions adopted by the court, and prevents what has been decided by judges and courts from being revised either in the same process (formal res judicata), or if it involves the merits of the case, in different processes (material res judicata). The res judicata meets two different functions: a negative one, which precludes the repetition of identical prosecutions; and a positive one, which imposes the acceptance of firm the judicial resolutions of subsequent related prosecutions. As a general matter, it is stated that only when these two functions meet, adequate levels of juridical certainty may be ensured. However, common doctrine and case-­‐law state that in the criminal proceeding, unlike other branches of legal order, the final judgment can only produce the negative function of the res judicata, never the positive one. This conviction relies on the belief that the positive function of the res judicata is opposed to the most basic requirements of the principles of a fair hearing and equality, which submit a reinforced intensity in the criminal proceeding, allowing unacceptable restrictions of the defence of the investigated-­‐defendant...
Description
Tesis inédita de la Universidad Complutense de Madrid, Facultad de Derecho, Departamento de Derecho Procesal, leída el 20-06-2017
Collections