Publication:
Exportación de Vino Ecológico a Estados Unidos. Organic wine expo to the United States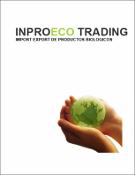 Advisors (or tutors)
Editors
Abstract
Los contados cambios positivos que ha experimentado la economía española últimamente son consecuencia de las exportaciones, que, según datos de BBVA Research, han subido un 15% desde los niveles previos a la crisis y en torno a un 25% desde su punto más bajo, en 2009. De modo tal que el sector externo ha ido aportando cada vez más al crecimiento de la economía y ha conseguido mejorar el elevado déficit por cuenta corriente que existía. Por estas razones INPROECO TRADING, S. L., un equipo de profesionales multidisciplinarios, considera menester orientar sus operaciones hacia la exportación de productos que impulsen la Marca España, aseguren que se mantenga la producción y consecuentemente garanticen puestos de empleo. La presente operación consiste en exportar vino ecológico fabricado por Bodegas F. Schatz en Ronda, hacia Estados Unidos; destino escogido por ser el mayor mercado consumidor de vino del mundo y por su interés creciente en la alimentación orgánica. La operación implica actos como la declaración de exportación, que se realiza a través de la Aduana de Cádiz, mismo puerto de salida de la mercancía hacia el destino, Port Everglades, Florida; asimismo, establece las condiciones de entrega, que se pactan según el Incoterm CIP de 2010. Por último, en la negociación se fija un precio, incluido en el contrato de compraventa y en la factura comercial, que se acuerda pagar de forma fraccionada: 25% por adelantado mediante transferencia y el 75% restante a través de crédito documentario. Para finalizar, INPROECO TRADING, S. L. reitera que considera la exportación como la clave para avivar la economía y por tanto, a través del presente ofrece sus servicios integrales de asesoría y gestión en la materia. ABSTRACT: Export performance in recent years has been extraordinary. The last positive changes experienced by the Spanish Economy are ultimately a result of exports, which, according to BBVA Research, went up a 15% from the pre-crisis levels and about 25% from its lowest point in 2009. As direct consequence of that, exportations have been contributing more and more to the growth of the economy and improved the high current account deficit. As for these reasons INPROECO TRADING, S. L., a team of multidisciplinary professionals, considered necessary to focus on the international trade, promoting the Brand «Spain» worldwide. The objective of this project is to be a guide for the entire Export process of the Spanish organic wine produced in the F. Schatz winery of Ronda, Malaga, to Florida: one of the most attractive market of the world and with a growing interest in organic food. During the project it has been carried out an Export declaration at the Cádiz Customs, the shipping of the goods to the destination port: Port Everglades in Florida, establishing the terms of delivery, agreed by the CIP Incoterm 2010. After negotiations a price was set, included in the purchasing contract and the commercial invoice, and agreed to be paid in two installments: 25% in advance by bank transfer and the remaining 75% through documentary credit. In summary, INPROECO TRADING, S. L. reiterates exports as the key to revive the economy, and by offering a wide range of services, it aims to improve Spanish companies' exportations worldwide.
Description
Trabajo Fín de Máster de 19º Edición Magister en comercio internacional 2012-2013.