Publication:
El horacianismo de Javier de Burgos en su contexto histórico, sociocultural y literario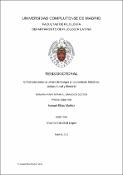 Files
Authors
Advisors (or tutors)
Editors
Publisher
Universidad Complutense de Madrid
Abstract
Francisco Javier de Burgos y Olmo fue un hombre de notable fama durante la convulsa España de la primera mitad del siglo XIX. En su labor política, sin duda hoy la más conocida, fue el artífice de la famosa división en provincias de 1833, reforma fundamental para nuestra administración que perdura hasta hoy vigente en lo sustancial. En el ámbito literario, mucho menos divulgado, realizó la primera edición moderna de las obras completas de Horacio en nuestras letras, con traducción en verso, edición del texto latino y amplio cuerpo de comentarios, obra de cierta repercusión durante el siglo XIX, pero olvidada en gran parte con el paso de los años. Siendo éste su legado más importante, no debemos olvidar los restantes frutos de su muy azarosa vida: extensa fue su trayectoria, por ejemplo, a lo largo de diferentes cargos y gobiernos trabajando para modernizar la vetusta organización de nuestro país, en una faceta política y administrativa dominada por un claro afán reformador, el cual, no en vano, buscaba facilitar la salida definitiva del Antiguo Régimen para nuestro país. Como escritor se aventuró por caminos muy diversos abrazando un enorme abanico de formas literarias: ya en prosa, en los campos de la historiografía contemporánea y de la crítica literaria; ya en verso, como poeta lírico; ya en el género dramático, entregando a las tablas varias comedias que llegaron a estrenarse en su tiempo. Mención aparte merece su trabajo periodístico, que lo llevó a fundar su propia publicación, la Miscelánea de Comercio, Artes y Literatura, y a dirigir posteriormente el conocido Imparcial. Claro partidario del enciclopedismo, bajo cuya advocación se encontraron siempre sus estudios, se propuso también publicar a autores españoles inéditos hasta entonces y se interesó por la biografía universal y el diccionario histórico, obras con las que seguía la estela de los grandes pensadores de la Ilustración francesa, tan admirada por él como signo de progreso y modernidad, y modelo ideal para nuestra España...
Francisco Javier de Burgos y Olmo (1778-1848) was a man who enjoyed a vast reputation in the eventful Spain of the first half of the 19th century. As far as his political facet is concerned, which is his best known, he was the architect of the popular division into provinces in 1833. This reform was fundamental to our administration and it remains substantially valid nowadays. As for the literary field, which was less discussed, he issued the first modern edition of Horace's Complete Works in Spain. It is a translation in verse, with its Latin text and a significant number of comments. This piece had a considerable impact in the 19th century, although it has been forgotten over the years. He had a wide career performing different positions in his political and administrative facet. He always tried to modernize the old Spanish system. He was motivated by his eagerness to reformation and strove to make the end of the Old Regime feasible. As a writer, he ventured forth on very diverse paths, embracing a wide range of literary forms. That is to say, as for prose, he worked in the fields of the contemporary historiography and the literary criticism, regarding poetry, as a lyrical poet. He also dealt with drama, providing with some comedies which were released in his lifetime. Moreover, it is worth mentioning his work as a journalist, since he founded his own publication, Miscelánea de comercio, artes y literatura and he later ran the well-known Imparcial. He was a strong supporter of encyclopaedism and he always worked following its guidelines. He suggested divulging Spanish authors who were unpublished and he developed an interest in the universal biography and the historical dictionary, with these two pieces he followed in the footsteps of the great thinkers of the French Enlightenment, which was a period he admired for being a symbol of progress and modernity, the perfect model for Spain...
Description
Tesis inédita de la Universidad Complutense de Madrid, Facultad de Filología, Departamento de Filología Latina, leída el 12/01/2016
Collections