Publication:
Tratamiento farmacológico de la obesidad. Estado actual y perspectivas futuras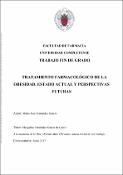 Authors
Advisors (or tutors)
Editors
Abstract
La obesidad es la enfermedad metabólica más prevalente y un factor de riesgo para la aparición de enfermedades cardiovasculares razón por la que debe ser tratada. El tratamiento farmacológico debe entenderse como una medida coadyuvante de los cambios en el estilo de vida que constituyen el primer escalón del tratamiento, estando indicado tan sólo en pacientes obesos y en pacientes con sobrepeso que presentan patologías asociadas (p.ej., hipertensión arterial, diabetes tipo II o dislipemias). Hay que tener presente que el efecto de los fármacos a largo plazo es modesto, que pueden producir reacciones adversas y que la interrupción del tratamiento conduce a un rápido aumento del peso corporal. Actualmente, en la industria farmacéutica se hace necesario el desarrollo de nuevas opciones eficaces y seguras frente a la obesidad. Por ello, se estudian nuevas perspectivas terapéuticas centrándose en la combinación o en el diseño de nuevos fármacos.
Obesity is the most prevalent metabolic disease and a risk factor for cardiovascular diseases and, therefore, it should be treated. Drug treatment should be understood as an adjunctive measure of changes in lifestyle that are the first step of treatment, being indicated only in obese patients and in overweight patients with associated cardiovascular diseases (eg, hypertension, type 2 diabetes or dyslipidemia). We must remember that drugs effects in long-term are modest, they can produce adverse reactions and discontinuation of treatment leads to a rapid gain in body weight. Nowadays, in the pharmaceutical industry, it has become necessary the development of new effective and sure options for the obesity. Therefore, new therapy perspectives are studied mainly focussing on the combination or on the design of new drugs.