Publication:
Scientific, Educational, and Environmental Considerations Regarding Mine Sites and Geoheritage: A Perspective from SE Spain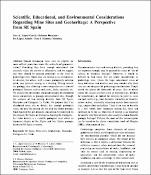 Authors
Manteca Martínez, José Ignacio
Advisors (or tutors)
Editors
Abstract
Should abandoned mine sites be eligible for some official protection under the umbrella of geoconservation? Providing they have enough educational and scientific value, the answer is affirmative, and we suggest that they should be granted protection at the level of geoheritage sites. Some may see mining as an environmental disaster, but others, with a more geologically oriented mind, may perceive mining as a blessing. Mining unveils the geology, thus allowing a more comprehensive vision of geological features such as rock units, faults, minerals, etc. We analyze the advantages and disadvantages of abandoned mines and districts as geologic observational sites, through the analysis of two mining districts from SE Spain: Mazarrón and Cartagena–La Unión. We propose that if an abandoned mine site or district has enough geological value, not only the mining site but also the whole geologic block hosting the ore deposits should also be protected. In this respect, the Sierra de Cartagena, hosting the Cartagena– La Unión district, is a valuable geological asset where an important chapter of the Alpine and late Alpine geologic history of SE Spain is written.
Description
The original publication is available at www.springerlink.com
Collections