Publication:
El metamorfismo de bajo grado de la Cordillera Bética.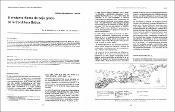 Authors
Advisors (or tutors)
Editors
Publisher
Instituto Geológico y Minero de España (Madrid)
Abstract
El estudio del metamorfismo de bajo grado del área Bética, en sus diferentes unidades (Alpujárride, Maláguide, NevadoFilábride) permite asignarlo al tipo de bajas presiones. Las determinaciones de los parámetros b0 e índices de cristalinidad de la ilita y su distribución, fijan las zonas anquizonales y epizonales en el conjunto bético y el tránsito a la mesozona. En función de la paragénesis y parámetros metamórficos se establecen esquemas isotérmicos e isobáricos así como la posible edad hercínica del metamorfismo.
The study of different units of the Betic a rea (Alpujarride, Malaguide, Nevado-Filabride) has defined the low grade metamorphism of these units as of the low pressure type. The distribution of chrystallinity index and b0 metamorphic parameters of the illite, places the anchizone and epizone in the Betic area and the transit towards the mesozone. lsothermic and isobaric sketches and the possible Hercynian age of this metamorphism are established.
Collections