Publication:
Estudio del proceso de adecuación del esfuerzo terapéutico en una unidad neonatal: desde la discusión a las consecuencias de la decisión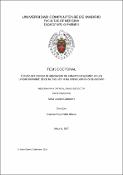 Files
Authors
Advisors (or tutors)
Editors
Publisher
Universidad Complutense de Madrid
Abstract
Los avances terapéuticos en las Unidades de Cuidados Intensivos Neonatales han conseguido mejorar la supervivencia y la evolución a medio y largo plazo de muchos recién nacidos enfermos. Sin embargo, en ocasiones, los profesionales plantean serias dudas sobre el beneficio real de estos tratamientos ya que a veces son terapéuticas fútiles que sólo consiguen prolongar la vida durante días o semanas o, en otras circunstancias, que sobrevivan niños con discapacidades muy limitantes. Así surgió hace décadas el debate sobre si siempre es adecuado para los intereses del paciente el uso de toda la tecnología disponible y se planteó la posibilidad de limitar, en ciertas situaciones, el tratamiento que éste está recibiendo. "No todo lo que es técnicamente posible es apropiado en un caso específico; no todo lo que se puede hacer se debe hacer". Actualmente las decisiones de adecuación del esfuerzo terapéutico (AET) son una práctica habitual aceptada como parte de la asistencia neonatal. La decisión de AET está amparada desde el punto de vista ético y legal, pero aún así genera situaciones de conflicto en las personas que están involucradas en la decisión ya sean profesionales, el propio paciente o su familia...
Treatment advances in NICUs have led to improved survival and clinical course in the medium and long term for many sick newborns. However, at times caregivers harbour serious doubts over the real benefit of these treatments as sometimes they are medically futile treatments which only manage to prolong life for a few days or weeks or, under different circumstances, children survive with very debilitating disabilities. This is how the debate arose decades ago on whether it is always in the patient's interests to use the technology available and the possibility of limiting the treatment received by the child in certain situations was proposed. Currently, decisions to limit treatment (LT) are usual practice, accepted as part of neonatal care. The decision to perform LT is protected from the ethical and legal point of view but it nonetheless generates conflict in people involved in the decision whether they are caregivers, the patient themselves or their family. Dealing with all these issues with patients and their families, making joint decisions and the LT procedure itself are not simple tasks, not only because of the lack of training of all caregivers in these aspects but also because of the ethical, moral, emotional, legal and social implications entailed...
Description
Tesis inédita de la Universidad Complutense de Madrid, Facultad de Medicina, Departamento de Pediatría, leída el 11-01-2016
Collections