Publication:
Rotaeche González de Ubieta, M. Ética y crítica de la conservación del patrimonio cultural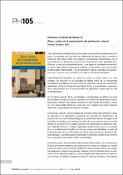 Authors
Advisors (or tutors)
Editors
Publisher
Junta de Andalucía: Instituto Andaluz del Patrimonio Histórico
Abstract
El libro titulado "Ética y crítica de la conservación del patrimonio cultural" de Mikel Rotaeche González de Ubieta, es un documento realizado con el fin de reflexionar de manera crítica sobre los dogmas y paradigmas establecidos en el ámbito de la conservación del patrimonio cultural. Este libro resulta interesante y novedoso, ya que fue editado recientemente. Además, supone un cambio total de contenido respecto a otros dirigidos a este campo, en donde se plasman temas en forma de guías básicas para la conservación de un determinado tipo de patrimonio. A partir de la información expuesta y con el apoyo secundario de recursos fotográficos y digitales, busca reflexionar acerca de las trampas éticas y filosóficas que se esconden detrás de las verdaderas tensiones y conflictos en este sector, así como los dogmas y apriorismos que están establecidos y son considerados como válidos. El autor no trata de dar por bueno el análisis presentado, sino de fomentar la comprensión y entendimiento de la información expuesta, para que el lector pueda incorporarlo a su propia reflexión crítica. Por tal motivo, al final de cada capítulo se muestran una serie de preguntas, cuyas respuestas pueden ser cotejadas en los contenidos digitales que complementan la lectura. Los capítulos siguen un orden ascendente, en donde los tres primeros actúan a modo de introducción y contextualización. En los tres siguientes se reflexiona sobre aspectos detallados del ámbito de la conservación, y el último de ellos basa su contenido como una especie de conclusión.
The book entitled "Ethics and criticism of the conservation of cultural heritage" by Mikel Rotaeche González de Ubieta, is a document made in order to critically reflect on the dogmas and paradigms established in the field of conservation of cultural heritage. This book is interesting and new, since it was published recently. In addition, it represents a total change in content with respect to others directed to this field, where issues are reflected in the form of basic guides for the conservation of a certain type of heritage. Based on the information presented and with the secondary support of photographic and digital resources, it seeks to reflect on the ethical and philosophical traps that lie behind the real tensions and conflicts in this sector, as well as the dogmas and apriorisms that are established and they are considered valid. The author does not try to accept the presented analysis as good, but to promote understanding and understanding of the information presented so that the reader can incorporate it into his own critical reflection. For this reason, at the end of each chapter a series of questions are shown, the answers of which can be compared in the digital content that complements the reading. The chapters follow an ascending order, where the first three act as an introduction and contextualization. In the next three he reflects on detailed aspects of the field of conservation, and the last one bases its content as a kind of conclusion.
Collections