Publication:
The Dieudonné property on C(K,E).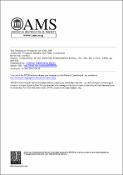 Files
Advisors (or tutors)
Editors
Publisher
American Mathematical Society
Abstract
In this paper we prove that if E is a Banach space with separable dual, then the space C(K, E) of all continuous E-valued functions on a compact Haus-dorff topological space K has the Dieudonnep roperty.
Citation
J. Batt and E. J. Berg, Linear bounded transformations on the space of continuous functions, J. Funct. Anal. 4 (1969), 215-239. W. J. Davis, T. Figiel,W. B. Johnson and A. Pełczynski, Factoring weakly compact operators, J. Funct. Anal. 17 (1974), 311-327. J. Diestel and J. J. Uhl, Jr., Vector measures, Math. Surveys, No. 15, Amer. Math. Soc., Providence, R. I., 1977. I. Dobrakov, On representation of linear operators on C0(T,X), Czech. Math. J. 21 (96) (1971), 13-30. A. Grothendieck, Sur les applications lin´eaires faiblement compactes d'espaces du type C(K), Canad. J. Math. 5 (1953), 129-173. R. B. Holmes, Geometric functional analysis and its applications, Springer-Verlag, New York, 1975. J. Lindenstrauss and L. Tzafriri, Classical Banach spaces. I, Ergeb. Math. Grenzgeb., vol. 92, Springer-Verlag, Berlin, 1977. Z. Semadeni, Banach spaces of continuous functions, PWN,Warsaw, 1971.
Collections