Publication:
Vector diffractive optical element as a full-Stokes analyzer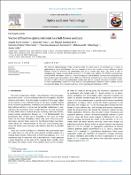 Authors
Pastor Villarubia, Verónica
Elshorbagy, Mahmoud Hamdy Mohamed
Advisors (or tutors)
Editors
Abstract
The real-time characterization of the polarization state of a light beam is of importance for a variety of applications in Optics and Photonics. We have designed a device that includes a Vector Diffractive Optical Element (VDOE) to determine the polarization state of an incident light beam. The device is able to simultaneously evaluate the four Stokes parameters of the light under analysis. The VDOE is sectorized into several Fresnel zone plates, enabling a compact arrangement and facilitating optoelectronical integration. We have also developed a procedure to remove diffractive effects and systematic errors. From the simulated results, our device is able to identify any polarization incident state with an averaged uncertainty of 0.006%. Finally, we have experimentally verified the VDOE with non-ideal polarization elements to further validate and test our proposed design. The averaged uncertainty of our experimental realization is 3.33%.
Collections