Publication:
La práctica de la diplomacia digital hispano-mexicana : un análisis comparativo de sus narrativas a través de redes sociales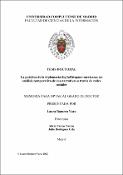 Files
Authors
Advisors (or tutors)
Editors
Publisher
Universidad Complutense de Madrid
Abstract
La presente tesis doctoral consiste en una aproximación hacia el estudio de la diplomacia digital hispano-mexicana a partir de las publicaciones de las cuentas de Twitter, Facebook, Instagram y YouTube de los ministerios de exteriores y sus representaciones. El objetivo principal de esta investigación consiste en examinar y comparar las estrategias de comunicación a través de las redes sociales mencionadas de México y España, identificando la relación de dicha comunicación con los objetivos de política exterior planteados por cada país. Además, desentrañar la estructura de las redes de la diplomacia digital de dos países hispanohablantes, México y España. Para este estudio de carácter cualitativo y cuantitativo, se elaboró un diseño metodológico híbrido que combina las técnicas del análisis de contenido, el grupo de enfoque, los informantes clave y las métricas para calcular el engagement ciudadano propuestas por Bonsón y Ratkai (2013). Se analizaron a profundidad un total de 3.965 publicaciones en plataformas sociales de las Cancillerías de México y España y sus representaciones seleccionadas recolectadas entre el 6 de octubre y el 5 de noviembre de 2019. Los resultados se dividen en los siguientes puntos clave: 1) inventario de la presencia de los servicios de exteriores de México y España en redes sociales; 2) uso de los elementos disponibles en cada plataforma en las publicaciones; 3) principales actores de la diplomacia mexicana y española y con quienes interactúan frecuentemente; 4) temáticas de las publicaciones; 5) participación e interacción de los usuarios con las cuentas analizadas; y, 6) percepción de los usuarios. Finalmente, esta tesis doctoral concluyó que las Cancillerías mexicana y española y sus representaciones han consolidado su presencia en redes sociales, sin embargo, los mensajes no se suelen adaptar al público y a las características propias de cada plataforma. Además, ambos países utilizan las redes sociales como cámaras de resonancia de sus mensajes. En general, son las cuentas gubernamentales y de los miembros del gobierno las que interactúan a través de los likes, comentarios y shares con las cuentas de la diplomacia hispano-mexicana, impidiendo así el diálogo con otros actores del sistema internacional, nacionales y/o extranjeros. Por ende, los niveles de engagement encontrados en las publicaciones analizadas son considerablemente menores a lo esperado.
The present dissertation aims to analyze the Spanish- Mexican digital diplomacy practices based on the publications of Twitter, Facebook, Instagram and YouTube accounts of the foreign ministries and their representations. The main objective is to examine and compare the communication strategies through Mexican and Spanish social networks mentioned, identifying the relationship between the posts and the foreign policy objectives set by each country. In addition, find out what is the structure of the digital diplomacy networks of these two Spanish-speaking countries. For this qualitative and quantitative study, a hybrid methodological design was developed that combines the techniques of content analysis, the focus group, the key informants, and the metrics to calculate citizen engagement proposed by Bonsón and Ratkai (2013). A total of 3,965 publications on social platforms of the Foreign Ministries of Mexico and Spain and their selected representations collected between October 6 and November 5, 2019 were analyzed in depth. The results are divided into the following key points: 1) inventory of the presence of the foreign services of Mexico and Spain in social networks; 2) use of the elements available on each platform in the publications; 3) main actors in Mexican and Spanish diplomacy and with whom they frequently interact; 4) themes of the publications; 5) participation and interaction of users with the analyzed accounts; and 6) user perception. Finally, this research concluded that the Mexican and Spanish Foreign Ministries and their representations have consolidated their presence in social networks, however, the messages are not usually adapted to the public and to the characteristics of each platform. In addition, both countries use social networks as echo chambers for their messages. In general, it is the government accounts and those of members of the government that interact through likes, comments and shares with the accounts of the Spanish Mexican diplomacy, thus preventing dialogue with other actors of the international, national and/or foreign system. Therefore, the levels of engagement found in the analyzed publications are considerably lower than expected.
Description
Tesis inédita de la Universidad Complutense de Madrid, Facultad de Ciencias de la Información, leída el 25-11-2022
Collections