Publication:
Democracia y Estado en América Latina: Por una imprudente reinvención de la política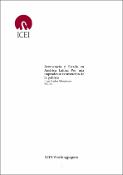 Authors
Advisors (or tutors)
Editors
Publisher
Instituto Complutense de Estudios Internacionales (ICEI)
Abstract
Juan Carlos Monedero examina el papel del Estado a la luz de los cambios ocurridos en América Latina luego del período de auge de las políticas neoliberales y sus consecuencias. Sostiene que, en la crisis actual de la economía mundial, los gobiernos de una nueva izquierda latinoamericana obligan a repensar conceptos y estrategias, entre las que identifica la democracia y el Estado. Para el autor, los cambios defendidos y propuestos no se agotan en lo económico sino que abarcan el conjunto de la vida social y cultural. Recorre, asimismo, debates y controversias con respecto al sistema político, a los partidos tradicionales y al uso del concepto de populismo, para caracterizar las contemporáneas experiencias latinoamericanas, particularmente al régimen de la República Bolivariana de Venezuela.
Juan Carlos Monedero examines the role of the State in light of changes that occurred in Latin America alter the boom period of Neoliberal policies and its tragic consequences. He argues that, in the current crisis in the global economy, the new left Latin American governments oblige to rethink concepts and strategies, including Democracy and the State. For the author, the defended and proposed changes are not limited to economic, but cover the whole social and cultural life. He revisits, as well, debates and controversies over the political system, the traditional parties and the use of the concept of populism, to characterize the contemporary Latin American experiences, particularly the regime of the Bolivarian Republic of Venezuela.