Publication:
On the orbit characteristics of the M/G/1 retrial queue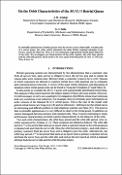 Files
Authors
Advisors (or tutors)
Editors
Abstract
In teletraffic applications of retrial queues only the service zone is observable. Another part of a retrial queue, the orbit, which represents the delay before repeated attempts to get service, cannot be observed. Thus, it is very important to get general results about behavior of the orbit. We investigate two characteristics of the orbit, namely, the orbit busy period and the orbit idle period, which seem to be very useful from this point of view.
Description
The first author acknowledges support from University Complutense of Madrid through Grant No. PR161/93-4777. We also thank the referees for their comments, which helped us to improve the clarity of the article.
Citation
Artalejo, J.R., "Explicit Formulae for the Characteristics of the M/H,/ 1 Retrial Queue," Journal ofthe Operational Research Society, 44,309-3 13 ( I993 ). Artalejo, J.R., "New Results in Retrial Queueing Systems with Breakdown of the Servers," Statistica Neerlandica, 48,23-36 ( 1994). Falin, G.I., "A Single-Line System with Secondary Orders," Engineering Cybernetics Review. Falin, G.I., "A Survey of Retrial Queues," Queueing Systems, 7, 127-168 ( 1990). Falin, G.I., "Estimation of Retrial Rate in a Retrial Queue," Queueing Systems, 19, 23 1-246 Falin, G.I., and Fricker, C., "On the Virtual Waiting Time in an M/G/l Retrial Queue," Journal ufApplied Probability, 28,446-460 ( 199 I ). Yang, T., and Templeton, J.G.C., "A Survey on Retrial Queues," Queueing Systems, 2, 201-233 ( 1987). Yang, T., Posner, M.J.M., Templeton, J.G.C., and Li, H., "An Approximation Method for the M/G/ 1 Retrial Queue with General Retrial Times," European Journal of Operational Research. 17,76-83 (1979). (1995). 76,552-562 (1994).
Collections