Publication:
Sistema de gestión de información de usuarios y resultados para el paquete informático GeneCodis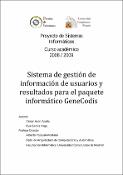 Authors
Advisors (or tutors)
Editors
Abstract
GeneCodis cuenta en la actualidad con una media de 500 trabajos reales provenientes de distintas partes del mundo, en especial de Europa, USA y Japón. Así mismo, el número de procesos realizados por el mismo usuario es también alto y la tendencia es aumentar. Este número elevado de procesos por usuario hace que la gestión de la información sea imprecisa poco fiable y prácticamente imposible de gestionar de una manera organizada ya que la manera de notificación existente en la actualidad está basada en el correo electrónico o en el almacenamiento manual de las URL con los resultados, por lo tanto, este proyecto pretende minimizar estos problemas mediante la realización de una gestión de los trabajos. [ASBTRACT] Nowadays, Genecodis has about 500 real works which come from different places of the world, especially from Europe, USA and Japan. Moreover, the number of process which is realized by the same user is usually large and it normally goes on increasing. This large number produces that information management could be vague and very little reliable. Furthermore, notifications are sending by e-mail or storage by URL and the results, so that, tidily management is almost impossible. Therefore, this project wants to decrease this kind of problems thanks to a work management.
Description
Trabajo de la asignatura Sistemas Informáticos (Facultad de Informática, Curso 2008-2009)
Collections