Publication:
Fecal glucocorticoid metabolites and ectoparasites as biomarkers of heat stress close to roads in a Mediterranean lizard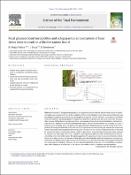 Advisors (or tutors)
Editors
Abstract
Differences between air and ground temperatures are expected to narrow with the advance of the season in temperate regions (aka seasonal restriction in the availability of thermal microhabitats), which may activate behavioral and physiological responses of ectotherm species adapted to temperate climates. However, according to cost-benefit models of ectotherm thermoregulation, we hypothesize that these responses may also carry some costs. We quantified seasonal shifts in thermoregulatory precision, concentration of fecal glucocorticoid metabolites, and load of ectoparasites in a Mediterranean lizard, Psammodromus algirus. We also tested whether the proximity to a road, a putative source of chronic stress, can facilitate the glucocorticoid-mediated response of lizards to heat stress. As expected, differences between body and environmental temperatures narrowed during the reproductive season and lizards responded by increasing their thermoregulatory precision and the secretion of glucocorticoids, as indicated by metabolites in feces. Interestingly, lizards tended to have higher glucocorticoid concentration when captured far from the road. This might reflect either a putative impairment of the glucocorticoid-mediated response of the lizards to heat stress close to the road or the plastic capability of P. algirus to acclimate to sources of moderate chronic stress. In the latter direction, the increase of both glucocorticoid metabolites and thermoregulatory precision supported that this Mediterranean species responds to environmental thermal restrictions with adaptive behavioral and physiological mechanisms. However, this was also associated with an increase in its susceptibility to ectoparasites, which represents an added cost to the current cost-benefit models of ectotherm thermoregulation.
Las restricciones térmicas se espera que aumenten a lo largo de la temporada de cría para las especies ectotermas debido al aumento progresivo de la temperatura. Esta estrechez de nicho térmico se espera que sea compensada con un comportamiento de evitación de los microclimas más calurosos, respuesta que podrían llevar acarreados ciertos costes. Estudiamos la precisión de termorregulación de la lagartija colilarga y vimos que las diferencias entre la temperatura corporal y ambiental se fueron estrechando conforme avanzó la temporada al tiempo que aumentaba la secreción de glucocorticoides. Los niveles en heces de estas hormonas fueron más elevados en la subpoblación lejos de la carretera, lo que podría indicar cierta capacidad de las lagartijas para adaptarse a fuentes de estrés crónico. Sin embargo, esto también estuvo asociado a un incremento de la carga de ectoparásitos, lo que podría ser un coste adicional de la respuesta de las lagartijas.
Collections