Publication:
Utilidad del modulador selectivo de los receptores de progesterona ulipristal en el tratamiento del útero miomatoso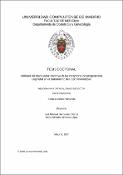 Files
Authors
Advisors (or tutors)
Editors
Publisher
Universidad Complutense de Madrid
Abstract
Los miomas son los tumores más frecuentes en la especie humana. Son proliferaciones monoclonales de células de músculo liso que se disponen en haces entre gran cantidad de MEC (colágeno, proteoglicanos y fibronectina) y se encapsulan en el miometrio. La incidencia aumenta con la edad de la mujer, de tal manera que se estima que a los 50 años el 70% de las mujeres caucásicas y el 80% de las afroamericanas presentan miomas. Aunque la mayoría permanecen asintomáticos, en un 15 a 30% de los casos son causa de sangrado uterino anómalo, dolor pélvico, síntomas compresivos, complicaciones durante la gestación e infertilidad por mecanismos que aún no son bien conocidos. Dada su frecuencia y su impacto en la calidad de vida de las pacientes constituyen un problema mayor de salud pública. Pocas son las opciones de tratamiento médico de las que se disponen en la actualidad y que incidan con relevancia clínica en la sintomatología de los miomas. Los fármacos que más evidencia reúnen como tratamiento médico preoperatorio de los miomas son los aGnRH, que han demostrado ser eficaces en la reducción del volumen uterino y del mioma y del sangrado uterino asociado al útero miomatoso. Sin embargo sus mal tolerados efectos secundarios hacen que sea un tratamiento poco práctico en la preparación preoperatoria de la mujer con útero miomatoso. En febrero de 2012 la Agencia Europea del Medicamento aprueba el del AUP perteneciente a la familia MSRP como tratamiento preoperatorio de los síntomas moderados y graves de miomas uterinos en mujeres adultas en edad reproductiva. El AUP se administra a una dosis de 5mg diarios durante un ciclo de 3 meses previos a la cirugía de miomas con posibilidad de realizar un segundo ciclo de otros 3 meses...
Fibroids are the most common tumors in humans. They are monoclonal proliferations of smooth muscle cells arranged in bundles between proteins of the extracellular matrix (collagen, proteoglycans and fibronectin) and encapsulated in the myometrium. The incidence increases with age women, so it is estimated that at 50 years 70% of Caucasian women and 80% of African American have fibroids. Although most of them remain asymptomatic, in 15-30% of cases they present symptoms due to abnormal uterine bleeding, pelvic pain, compression symptoms, complications during pregnancy and infertility by mechanisms that are not well known. Given their frequency and impact on quality of life of patients they constitute a major public health problem. There are few options for medical treatment currently available. GnRHa (GnRH analogues) are the treatment which gather more evidence as a preoperative medical therapy of fibroids . They have proven effective in reducing uterine and fibroid volume and uterine bleeding associated with myomatous uterus. However they are poorly tolerated because of their side effects, which make it an impractical treatment in preoperative preparation of women with fibroid uterus. In February 2012, the European Medicines Agency approves the SPRM (selective progesterone receptors modulator) called ulipristal acetate (UPA) as preoperative treatment of moderate to severe symptoms of uterine fibroids in adult women of reproductive age. UPA is administered at a dose of 5 mg daily for a cycle of 3 months prior to fibroid surgery with the possibility of a second course of 3 months. UPA has proven effective as a preoperative treatment of fibroids at least at the same level as GnRHa in reducing uterine bleeding associated with fibroid uterus and fibroid volume reduction with the advantage over those that control bleeding is much faster (7 days versus 30 analogues) and less frequent and less severe side effects (low incidence of hot flushes and no effect on bone remodeling).
Description
Tesis inédita de la Universidad Complutense de Madrid, Facultad de Medicina, Departamento de Obstetricia y Ginecología, leída el 28-01-2016
Collections