Publication:
Los orígenes de las reivindicaciones autonomistas catalanas y sardas a través de la prensa periódica del siglo XIX (1840-1890)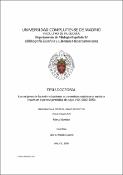 Files
Authors
Advisors (or tutors)
Editors
Publisher
Unviersidad Complutense de Madrid
Abstract
The purpose of the thesis for obtaining this PhD diploma is a comparative research between the origin of the Catalonian national movement and the Sardinian national one through the analysis of the 19th century periodicals as well as through a bibliography obtained by extracting them from consulted newspapers and magazines. Not only are both realities compared because of the Aragonese-Catalan influence over the Sardinian culture during its conquer but also because both movements had their origin during the 1840s and developed concurrently along that century presenting some differences, though. The political and cultural scene in Sardinia in those years was characterized by the spread of a discomfort feeling among the population after the acceptance of the " Fusione perfetta" in 1848 and the following rollout of the "Statuto Albertino" in the island, representing this last regulation an attempt to unify the different Italian provinces in an administrative and legislative way, together with the previous "Feliciano" code from 1827. Therefore, this is how it began to be defined the set of political, economic, and cultural theme that forms the central point of the "questione sarda" (this term and its whole connotation were used for the first time in 1867 in an article published in the Cagliaritano weekly-publication La Cronaca). The singularity of this Sardinian nationalistic movement is related to the origin of the first regional demands expressed during those same years in some European regions and, more specifically, in Catalonia. Actually in this region, in those same years, we find the origin of a cultural movement called RenaixenÇa whose initial claim was the linguistic and cultural Catalonian renaissance and which adopted a more political meaning along the 19th century...
Description
Tesis inédita de la Universidad Complutense de Madrid, Facultad de Filología, Departamento de Filología Española IV (Bibliografía Española y Literatura Hispanoamericana), leída el 17-11-2015
Collections