Publication:
Desarrollo, seguridad y eficacia de una solución humectante con Aloe vera e hidroxipropilmetilcelulosa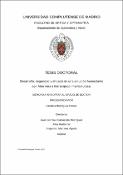 Authors
Advisors (or tutors)
Editors
Publisher
Universidad Complutense de Madrid
Abstract
La enfermedad de ojo seco está causada por una ausencia crónica de lubricación y humectación sobre la superficie ocular. Se trata de una patología de carácter multifactorial caracterizada por la pérdida de homeostasis de la película lagrimal y en cuya etiología intervienen la inestabilidad e hiperosmolaridad de la película lagrimal (Bron et al., 2017; Craig et al., 2017b).Las consecuencias de la enfermedad de ojo seco abarcan desde sintomatología de irritación ocular leve pero de carácter persistente, hasta una inflamación significativa y/o incluso a la aparición de lesiones en la superficie ocular de carácter irreversible. Los sustitutos lagrimales se consideran el tratamiento sintomático base para esta patología (Jones et al., 2017; No author, 2016)...
Dry eye disease is caused by a chronic lack of lubrication and moisture on the ocular surface. It is a multifactorial pathology characterized by a loss of homeostasis of the tear film and whose etiology intervenes in the instability and hyperosmolarity of the tear film (Bron et al., 2017; Craig et al., 2017b). The consequences of dry eye disease range from symptoms of mild but persistent eye irritation, to significant inflammation and / or even the appearance of irreversible lesions on the ocular surface. Tear substitutes are considered the base symptomatic treatment for this pathology (Jones et al., 2017; No author, 2016) ...
Description
Tesis inédita de la Universidad Complutense de Madrid, Facultad de Óptica y Optometría, Departamento de Optometría y Visión, leída el 25-01-2021
Collections