Publication:
La modificación de los contratos y la protección del interés general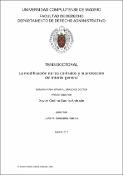 Files
Authors
Advisors (or tutors)
Editors
Publisher
Universidad Complutense de Madrid
Abstract
El abuso en la modificación del contrato es una de las grandes amenazas a las que se enfrenta la contratación pública hoy en día. Al ocurrir durante la fase de ejecución del contrato, esta práctica parece fuera del alcance de los focos de transparencia a los que se somete la adjudicación. En el presente trabajo se analiza precisamente el alcance y naturaleza del problema, sus causas, las soluciones que se han adoptado y las que se podrían adoptar. Metodología. Para llevar a cabo el estudio se ha acudido a una metodología variada. Se ha renunciado método dogmático puro, que sería útil si de lo que se tratase fuera de analizar estrictamente la ley por la ley, la ley "como es", prescindiendo de hacer cualquier valoración crítica que no fuese puramente jurídica. La complejidad del fenómeno de las modificaciones contractuales no permite adoptar sólo un enfoque jurídico puro que impediría profundizar en cuestiones como la razón final de la norma o sus efectos. En adopta un método tópico o problemático. Además, se realizan acercamientos de Derecho comparado. Resultados. El trabajo comienza justificando las razones que llevan a considerar la modificación como un problema sin solución sencilla. Para ello se estudia el impacto de la modificación en cada uno de los intereses implicados: los fondos públicos, el sistema de contratación, la relación contractual, la entidad adjudicadora y el contratista, los licitadores apartados y otros terceros interesados. La primera parte del estudio define el fenómeno y estudia la fase en la que se manifiesta, esto es, la ejecución del contrato. Tras ello se analizan las causas, llegando a la conclusión de que la modificación del contrato es un fenómeno sin una causa única por lo que exige soluciones integrales. Por último, se estudian distintos modelos identificados. La segunda parte se centra en el estudio del modelo español de modificación de los contratos. Se estudian los presupuestos habilitantes, los límites, el procedimiento y las consecuencias de modificar el contrato. Además, se analizan los mecanismos de control y las consecuencias de la modificación irregular. Esta segunda parte acaba con el estudio de los supuestos especiales de modificación, subrayando la importancia de los elementos complementarios. En la tercera y última parte se analiza la solución elegida por la mayoría de ordenamientos, consistente en introducir límites para proteger la licitación inicial. Se estudian las consecuencias que tiene dicha solución. Además, se proponen otras soluciones complementarias Conclusiones. Las hipotesis iniciales se confirman, resultando que estamos ante un problema de carácter histórico y global, esto es, que afecta a la mayoría de países con independencia de su sistema legal. Además, se ha comprobado que estamos ante un problema que no tiene una única causa, sino que se suele producir una concurrencia de varias de ellas. Todo ello nos empuja a defender que la solución debe pasar por tener en cuenta tanto los elementos centrales o nucleares de la regulación como los elementos complementarios o periféricos. Un claro ejemplo es el caso español ya que se trata de un sistema que ha pasado de ser muy flexible a ser muy rígido. El foco se ha puesto en los elementos centrales, descuidando los elementos complementarios. Además, al analizar la solución dada por los ordenamientos (proteger la licitación) se concluye que ello nos lleva hacia la contractualización e incluso privatización de la regulación de la modificación en el Derecho público de contratos.
The abuse and misuse of the public contracts modification technique poses a major threat to the public procurement system. It usually takes place during the execution phase and, thus, out of sight and below adequate levels of transparency. This Thesis will assess the nature of this issue and the extent to which it is a problem. The causes of the issue and the solutions adopted and to be adopted are studied as well. Methodology. This research has been carried out using a flexible methodology. "Black-letter" or a pure doctinal legal method has not been used, in favour of a legal method "in context". A traditional approach would have driven the research to focus on law as "it is". Thus, the author does not view law as an autonomous system and it tries to study other factors shaping law, to address "law in action" and to include the "policy" element. The research has also been carried out using a comparative approach. Results. Firstly, the research explores the reasons why the issue does not have a straightforward solution. An explanation of its compexity is precisely that modifying a contract has several implications, not only on the contractual relation but also on the public funds and on the award procedure. Part I of the Thesis defines the object and the procurement phases in which its origins may be traced down. The causes of contract modifications invoked by the literature are studied. Lastly, Part I delves into several identified models of contract modification systems. Part II focuses on the Spanish model, traditionally based on the unilateral power to change a contract conferred to the public authority. The grounds, limits, procedures and consequences of modifying a public contract are studied. Also, the available control mechanisms and the consequences of an unlawful modification. This parts ends with a brief study of special cases, such as the modification of works contracts. Finally, Part III analises the solution that almost every single regulatory system has chosen: passing rules in order to protect the award procedure. The consequences of this choice are studied. Other solutions are suggested. Conclusions. This research concludes that the issue has not a single nor simple solution. It addresses an historical and global problem that affects on the vast majority of countries regardless its legal framework. It has been observed that the problem has not a single cause but multiple and concurrent causes. This is the reason why a holistic approach is supported. This holistic approach should consider the core elements of the regulation (grounds, limits, etc) but also the complementary ones. An example is the Spanish model, in which the efforts has been focused solely on the core elements, ignoring the complementary ones. Finally, it is concluded that the solution given by the most important regulatory models, which is to protect the award procedure, will lead towards the contractualization and even privatization of the public contract modification regimes.
Description
Tesis inédita de la Universidad Complutense de Madrid, Facultad de Derecho, Departamento de Derecho Administrativo, leída el 13/07/2016
Collections