Publication:
Bioceramics: from bone substitutes to nanoparticles for drug delivery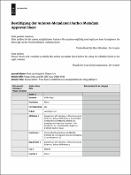 Authors
Advisors (or tutors)
Editors
Abstract
Since the second half of the 20th century, bioceramics are used for bone repair and regeneration. Inspired by bones and teeth, and aimed at mimicking their structure and composition, several artificial bioceramics were developed for biomedical applications. And nowadays, in the 21st century, with the increasing prominence of nanoscience and nanotechnology, certain bioceramics are being used to build smart drug delivery systems, among other applications. This minireview will mainly describe both tendencies through the research work carried out by the research team of María Vallet-Regí.
Description
RESEARCHER ID M-3378-2014 (María Vallet Regí) ORCID 0000-0002-6104-4889 (María Vallet Regí)
Collections