Publication:
Tolerability and Safety of a Nutritional Supplement with Potential as Adjuvant in Colorectal Cancer Therapy: A Randomized Trial in Healthy Volunteers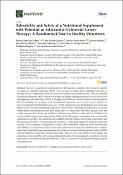 Advisors (or tutors)
Editors
Abstract
Bioactive supplements display relevant therapeutic properties when properly applied according to validated molecular effects. Our previous research efforts established the basis to develop a dietary supplement based on a Rosmarinus officinalis supercritical extract. This was enriched in phenolic diterpenes (RE) with proven properties against signaling pathways involved in colon tumorigenesis, and shark liver oil rich in alkylglycerols (AKG) as a bioactive lipid vehicle to improve RE bioavailability and synergize with the potential therapeutic action of the extract. Herein, we have investigated the tolerability and safety of the supplement and the biological and molecular effects from an immuno-nutritional perspective. Sixty healthy volunteers participated in a six week, double-blind, randomized parallel pilot study with two study arms: RE-AKG capsules (CR) and control capsules (CC). Mean age (±SD) of volunteers was 28.32 (±11.39) and 27.5 (±9.04) for the control and the study groups, respectively. Safety of the CR product consumption was confirmed by analyzing liver profile, vital constants, and oxidation markers (LDLox in blood and isoprostanes and thromboxanes in urine). The following were monitored: (1) the phenotyping of plasmatic leukocytes and the ex vivo response of lipopolysaccharide (LPS)-stimulated peripheral blood mononuclear cells (PBMCs); (2) expression of genes associated with immune-modulation, inflammation, oxidative stress, lipid metabolism, and tumorigenesis; and (3) the correlation of selected genetic variants (SNPs) with the differential responses among individuals. The lack of adverse effects on liver profile and oxidation markers, together with adequate tolerability and safe immunological adaptations, provide high-quality information for the potential use of CR as co-adjuvant of therapeutic strategies against colorectal cancer.
Collections