Publication:
Electron microscopic study of the illite– smectite transformation in the bentonites from Cerro del Aguila (Toledo, Spain)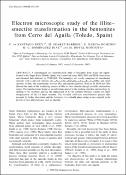 Advisors (or tutors)
Editors
Publisher
Mineralogical Society / Blackwell Scientific publications
Abstract
A mineralogical and microstructural study of bentonites from 'Cerro del Aguila' located in the Tagus Basin (Toledo, Spain) was carried out using XRD, SEM and TEM observations and chemical data obtained by TEM-EDX. The bentonites are mainly composed of trioctahedral smectite with a unit-cell formula (Si3.76Al0.24)(Al0.44Fe3+ 0.26Mg1.81)Ca0.05K0.19O10(OH)2 and small amounts of illite. The relationships between illite and smectite particles observed by SEM and TEM allowed the study of the weathering process of illite to form smectite through possible intermediate stages. The transformation begins as an exfoliation normal to the stacking direction and develops by opening of the interlayer spacing, the replacement of K+ by hydrated interlayer cations and slight reorganization of the 2:1 layer structure. The so-called solid-state transformation process then proceeds by further dissolution and the formation of a colloidal phase acting as raw material in the growth of new phyllosilicates such as smectite.
Collections