Publication:
Impacto clínico de las aberrancias inmunofenotípicas y perfil mutacional en síndromes mielodisplásicos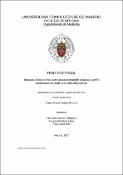 Files
Authors
Advisors (or tutors)
Editors
Publisher
Universidad Complutense de Madrid
Abstract
Los síndromes mielodisplásicos (SMD) constituyen un grupo heterogéneo de entidades clínicas. La citomorfología y la citogenética constituyen el estándar para el estudio de pacientes con sospecha de SMD. Sin embargo, todavía existen dificultades a la hora de establecer el diagnóstico de SMD, sobre todo en muestras con una sola citopenia, y sin exceso de blastos. Las anomalías citogenéticas representan un factor pronóstico fundamental y apoyo a la hora del diagnóstico, aunque sólo existen alteraciones en un 30-50% de los pacientes. Las nuevas herramientas diagnósticas de las que disponemos en la actualidad (en citometría de flujo y en biología molecular) pueden contribuir no sólo al diagnóstico, sino también al pronóstico en pacientes con SMD. OBJETIVO Desarrollar una metodología por citometría de flujo que nos permita realizar el diagnóstico diferencial entre pacientes con SMD y con citopenias de otro origen. Evaluar la aplicabilidad de la técnica de secuenciación masiva de nuevo generación y de alta sensibilidad (NGS) para el diagnóstico molecular y pronóstico de pacientes con SMD...
The myelodysplastic syndromes (MDS) are a heterogeneous group of clinical entities. Cytomorphology and cytogenetics are standard for the study of patients with suspected MDS. However, there are still difficulties in establishing the diagnosis of MDS, especially in samples with a single cytopenia, without excess blasts. Cytogenetic abnormalities are a key prognostic factor and support at the time of diagnosis, although there are only changes in 30-50% of patients. Nowadays, new diagnostic tools (flow cytometry and molecular biology) can contribute not only diagnosis but also prognosis in patients with MDS. OBJECTIVE Develop a methodology for flow cytometry immunophenotyping that allows us to make the differential diagnosis between MDS patients with cytopenias of other sources. Evaluate the applicability of the next generation sequencing and high sensitivity (NGS) for molecular diagnosis and prognosis of patients with MDS. PATIENTS AND METHODS For immunophenotyping analysis by flow cytometry, 55 patients diagnosed of MDS, and 51 controls with cytopenias of several origins (immune, hypersplenism, drug toxicity) were selected. The recommendations of the working group from the European LeukemiaNet were applied to assess dysplasia by flow cytometry in different populations: myeloid blasts, lymphoid blasts, granulocytic, monocytic and erythroid cells. Furthermore, a database was designed for myeloid maturation using the Infinicyt® software...
Description
Tesis inédita de la Universidad Complutense de Madrid, Facultad de Medicina, Departamento de Medicina, leída el 08-02-2016
Collections