Publication:
Aspectos hidrogeológicos, paleoambientales, astronómicos y simbólicos del Bronce de La Mancha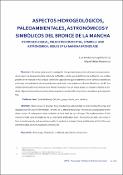 Advisors (or tutors)
Editors
Abstract
Recientes avances en la investigación han aportado nuevos datos de importancia para entender el origen y la desaparición de la Cultura de las Motillas, o de los pozos del Bronce de La Mancha. Las motillas pueden ser en realidad el más antiguo sistema de captación de agua subterránea a nivel comarcal establecido en Europa. La implantación de esta red de pozos pudo estar relacionada con el Evento Climático 4.2 ka BP. Las motillas forman tells muy similares en lo formal a túmulos y no son meros pozos; su carácter simbólico es evidente. Algunos túmulos de esta cultura tienen arquitecturas orientadas a los astros y asociadas a arte esquemático.
Recent research advances have provided new relevant data to understanding the origin and disappearance of Culture of the Motillas -or wells- of La Mancha Bronze Age. The motillas could possibly be the oldest system of underground water collection at local level set up in Europe. The implementation of this network of wells could be related to the 4.2 kiloyear BP aridification event. The motillas are tells, very similar in form to burial mounds, and are not mere wells; its symbolism is obvius. Some architectures of this Culture are oriented to stars and have associated schematic art.
Collections