Publication:
Democracia Digital : espacio público, Procomún y Populismo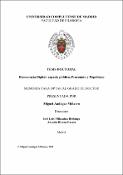 Files
Authors
Editors
Publisher
Universidad Complutense de Madrid
Abstract
La presente tesis tiene como objetivo analizar las claves del espacio público de deliberación política en su relación con nuevos movimientos políticos como el populismo. Las nuevas formas de comunicación digitales de las últimas décadas conforman cambios sustanciales en el intercambio de información y la transmisión de los contenidos de carácter político, que se hacen virales en virtud de su capacidad de polarización. El trabajo está dividido en dos partes: La primera se dedica a la descripción y crítica de las formas contemporáneas imperantes en el ámbito digital y su extensión a todos los ámbitos de la vida humana. Tanto la distribución de contenidos en las redes sociales como la extensión de la hiperconexión tanto de los individuos como de los objetos que nos rodean están determinados por la gestión algorítmica del presente. Las nuevas formas de inteligencia artificial configuran la identidad y la vida tanto pública como privada de forma binaria, única forma en la que los algoritmos son capaces de tratar la información. Esto genera nuevas formas de polarización y enfrentamiento político. Incapaz de dar cuenta de lo humano, el algoritmo trabaja desde una aparente objetividad clasificando a las personas en categorías binarias como abierto/cerrado, dentro/fuera, inocente/culpable, etc...
The present thesis analyzes the main factors to understand the public space of political deliberation in its relationship with new political movements such as populism. The new forms of digital communication in recent decades make up substantial changes in the exchange of information and the transmission of political content, which become viral by virtue of their polarization capacity. My thesis work is divided into two parts:The first part is about the description and criticism of the prevailing contemporary forms in the digital field and its extension to all areas of human life. Both the distribution of content on social networks and the extent of the hyperconnection of individuals and objects that surround us are determined by the algorithmic management. The new forms of artificial intelligence configure identity and both public and private life in a binary way, the only way in which algorithms are capable of handling information.This generates new forms of polarization and political confrontation. Unable to account for the human life, the algorithm works from an apparent objectivity classifying people in binary categories such as open / closed, inside / outside, innocent / guilty, etc...
Description
Tesis inédita de la Universidad Complutense de Madrid, Facultad de Filosofía, leída el 24-05-2022
UCM subjects
Partidos y grupos políticos
Unesco subjects
5905.06 Partidos Políticos