Publication:
La mediación como disciplina científica: El espacio profesional y académico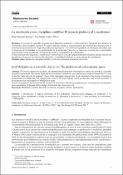 Advisors (or tutors)
Editors
Abstract
Se presenta la necesidad de potenciar el desarrollo académico y profesional de la mediación para alcanzar su crecimiento como disciplina científica. El actual momento jurídico y socioeconómico que vivimos hace presagiar que es el momento para encontrar el "lugar adecuado para su progreso". Se establecen algunas de las estrategias adecuadas para el desarrollo de la identidad de los profesionales de la mediación. Para ello, se realiza un recorrido por el movimiento experimental, social, profesional y formal de desarrollo y consolidación de la Mediación. Se han analizado investigaciones, experiencias y reflexiones diversas que se han mantenido constantes durante más de una década hacia el proceso de construcción, desarrollo y consolidación del área de conocimiento de la mediación.
The need to enhance the academic and professional development of mediation to achieve its growth as a scientific discipline is presented. The current legal and socio-economic moment we are experiencing makes us foretell that it is time to find the "right place for its progress". Some of the appropriate strategies for the development of the identity of mediation professionals are established. For this purpose, a tour of the experimental, social, professional and formal movement of development and consolidation of Mediation is made. Several investigations that have remained constant for more than a decade towards the process of construction, development and consolidation of the area of knowledge of mediation have been analyzed.
Collections