Publication:
Análisis comparativo entre la prostatectomía radical y la radioterapia con bloqueo androgénico en el cáncer de próstata localizado de alto riesgo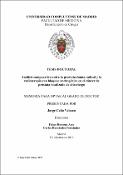 Files
Authors
Editors
Publisher
Universidad Complutense de Madrid
Abstract
Introducción y objetivos: La incidencia del cáncer de próstata se ha incrementado en los últimos años, constituyendo el cáncer más común envarones europeos mayores de 70 años, probablemente debido al envejecimiento poblacional, el uso de test útiles en la detección precoz y las mejoras en las técnicas de biopsia prostática, entre otros aspectos.Sin embargo, el tratamiento del cáncer de próstata clínicamente localizado de alto riesgo (CPAR) sigue estando en controversia hoy en día. Las Guías Clínicas actuales de la EAU recomiendan en este grupo de pacientes con una expectativa mayor de 10 años, la prostatectomía radical (PR) dentro de un tratamiento multimodal asociada a una linfadenectomía extendida. De la misma forma también se recomienda el tratamiento con radioterapia externa con deprivación androgénica (RT±HT) durante 2-3 años...
The incidence of prostate cancer has increased in recent years, representing the most common cancer in European males over 70 years old, probably due to population aging, the use of better tests in early detection and improvements in prostate biopsy techniques, among other aspects. However, the treatment of high-risk localised prostate cancer (HRLPC) remains controversial nowadays. Current clinical EAU guidelines recommend in this group of patients with a life expectancy greater than 10 years, radical prostatectomy (RP) within a multimodal treatment associated with an extended lymphadenectomy. Furthermore, treatment with external radiotherapy and androgen deprivation therapy (RT+HT) for 2-3 years is also recommended...
Description
Tesis de la Universidad Complutense de Madrid, Facultad de Medicina, Departamento de Cirugía, leída el 31-05-2019
Collections