Publication:
Eficacia del plasma rico en plaquetas en el control postoperatorio de la cirugía del tercer molar inferior retenido. Informe de resultados del estudio piloto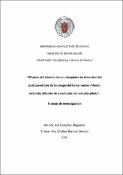 Authors
Advisors (or tutors)
Editors
Citation
1. Donado M. Martínez JM. Cirugía Bucal. Patología y Técnica. Ed. Masson. 4ª ed. Barcelona: Masson; 2013: 241-277. 2. Sailer, Hermann F. Atlas de cirugía oral. Ed. Masson. 1ª ed. Barcelona: Masson; 2003. 3. De Abajo FJ, García del Pozo J, y del Pino A. Evolución de la utilización de antiinflamatorios no esteroideos en España desde 1990 hasta 2003. Aten Primaria. 2005; 36 (8): 424-33. 4. Kim K, Brar P, Jakubowski J, Kaltman S, Lopez E. The use of cortocosteroids and nonsteroidal antiinflammatory medication for the management of pain and inflammation after third molar surgery: A review of the literature. Oral Surg Oral Med Oral Pathol Oral Radiol Endod. 2009; 107: 630-640. 5. Savage MG, Henry MA. Preoperative nonsteroidal anti-inflammatory agents: Review of the literature. Oral Surg Oral Med Oral Pathol Oral Radiol Endod. 2004; 98: 146-52. 6. Klongnoi B, Kaewpradub P, Boonsiriseth K, Wongsirichat N. Effect of single dose preoperative intramuscular dexamethasone injection on lower impacted third molar surgery. Int J Oral Maxillofac Surg. 2012; 41: 376-9. 7. Lodi G, Figini L, Sardella A, Carrassi A, Del Fabbro M, Furness S. Antibiotics to prevent complications following tooth extractions (Review). Cochrane Database of Systematic Reviews. 2013; 5. 8. Vezeau PJ. Dental extraction wound management: medicating postextraction sockets. J Oral Maxillofac Surg. 2000; 58: 531-7. 9. Halpern LR, Dodson TB. Does Prophylactic Administration of Systemic Antibiotics Prevent Postoperative Inflammatory Complications After Third Molar Surgery? J Oral Maxillofac Surg. 2007; 65: 177-185. 10. Adde CA, Soares MS, Romano MM, Carnaval TG, Sampaio RM, Aldarvis FP, Federico LR. Clinical and surgical evaluation of the indication of postoperative antibiotic prescription in third molar surgery. Oral Surg Oral Med Oral Pathol Oral Radiol. 2012; 114(5 Suppl): 26-31. 11. Lawler B, Sambrook PJ, Goss AN. Antibiotic prophylaxis for dentoalveolar surgery: is it indicated? Aust Dent J. 2005;50 (Suppl 2):54-9 12. Gordon SM, Mischenko AV, Dionne RA. Long-Acting Local Anesthetics and Perioperative Pain Management. Dental Clinics of North America. 2010; 54 (4): 611-20 13. Sancho-Puchades M, Vílchez-Pérez MÁ, Valmaseda-Castellón E, Paredes-García J, Berini-Aytés L, Gay-Escoda C. Bupivacaine 0.5 % versus articaine 4 % for the removal of lower third molars. A crossover randomized controlled trial. Med Oral Patol Oral Cir Bucal. 2012; 17 (3): 462-8. 14. Stabile P, Reader A, Gallatin E, Beck M, Weaver J. Anesthetic efficacy and heart rate effects of the intraosseous injection of 1.5% etidocaine (1:200,000 epinephrine) after an inferior alveolar nerve block. Oral Surg Oral Med Oral Pathol Oral Radiol Endod. 2000; 89: 407-11. 15. Barona Dorado C. Influencia de la ropivacaína en la cirugía del tercer molar inferior. Estudio comparativo. Tesis doctotoral. UCM. 2001. 16. Horowitz R, Holtzclaw D, Rosen PS. A review on alveolar ridge preservation following tooth extraction. J Evid Base Dent Pract. 2012:S1: 149-60. 17. Del Fabbro M, Bortolin M , Taschieri S. Is autologous platelet concentrate beneficial for post-extraction socket healing? A systematic review. Int J Oral Maxillofac Surg. 2011; 40: 891–900. 18. Sánchez AR, Sheridan PJ, Kupp LI. Is Platelet-rich Plasma the Perfect Enhancement Factor? A Current Review. Int J Oral Maxillofac Implants. 2003; 18: 93–103. 19. Anitua E, Andia I, Ardanza B, Nurden P, Nurden AT. Autologous platelets as a source of proteins for healing and tissue regeneration. Thrombosis and Haemostasis. 2004; 91 (1): 4–15. 20. Marx RE. Platelet-rich plasma: evidence to support its use. J Oral Maxillofac Surg. 2004; 62 (4): 489–96. 21. Martinez-Zapata M, Martí-Carvajal A, Solà I, Expósito J, Bolíbar I, Rodríguez L, Garcia J. Plasma rico en plaquetas autólogo para el tratamiento de las heridas crónicas. Cochrane Database of Systematic Reviews. 2012; 10. 22. Célio-Mariano R, de Melo WM, Carneiro-Avelino C. Comparative radiographic evaluation of alveolar bone healing associated with autologous platelet-rich plasma after impacted mandibular third molar surgery. J Oral Maxillofac Surg. 2012; 70: 19-24. 23. Yazawa M, Ogata H, Nakajima T, y Watanabe N. Influence of Antiplatelet Substances on Platelet-Rich Plasma. J Oral Maxillofac Surg. 2004; 62:714-718. 24. Sammartino G, Tia M, Marenzi G, di Lauro AE, D'Agostino E, Claudio PP. Use of autologous platelet-rich plasma (PRP) in periodontal defect treatment after extraction of impacted mandibular third molars. J Oral Maxillofac Surg. 2005; 63(6): 766-70. 25. Mozzati M, Martinasso G, Pol R, Polastri C, Cristiano A, Muzio G, Canuto R. The impact of plasma rich in growth factors on clinical and biological factors involved in healing processes after third molar extraction. J Biomed Mater Res A. 2010; 95 A (3): 741-6. 26. Ogundipe OK, Ugboko VI, Owotade FJ. Can autologous platelet rich plasma gel enhance healing after surgical extraction of mandibular third molars? J Oral Maxillofac Surg. 2011; 69: 2305-10. 27. Barona-Dorado C, González-Regueiro I, Martín-Ares M, Arias-Irimia O, Martínez-González JM. Efficacy of platelet-rich plasma applied to postextraction retained lower third molar alveoli. A systematic review. Med Oral Patol Oral Cir Bucal. 2014; 19 (2): 142-8. 28. Gürbüzer B, Pikdöken L, Urhan M, Süer BT, Narin Y. Scintigraphic evaluation of early osteoblastic activity in extraction sockets treated with platelet-rich plasma. J Oral Maxillofac Surg. 2008; 66(12): 2454-60. 29. Rutkowski JL, Johnson DA, Radio NM, Fennell JW. Platelet rich plasma to facilitate wound healing following tooth extraction. J Oral Implantol. 2010; 36(1): 11-23. 30. Haraji A, Lassemi E, Motamedi MH, Alavi M, Adibnejad S. Effect of plasma rich in growth factors on alveolar osteitis. Natl J Maxillofac Surg. 2012; 3(1): 38-41. 31. Alonso C, Baró F, Blanquer M, de Felipe P, Fernández ME, Gómez-Chacón C, et al. INFORME/V1/23052013 de la Agencia Española de Medicamentos y Productos Sanitarios sobre el uso de Plasma Rico en Plaquetas. Ministerio de sanidad, servicios sociales e igualdad. Disponible en: http://www.aemps.gob.es/vigilancia/medicamentosUsoHumano/docs/notific acion-SRA.pdf 32. Cobos-Carbo A, Augustovski F. CONSORT 2010 Declaration: Updated guideline for reporting parallel group randomised trials. Med Clin. 2011; 137 (5): 213–5. 33. Pell GJ, Gregory BT. Impacted mandibular third molars: Classification and modified techniques for removal. Dent Digest. 1933; 39: 330-8. 34. Winter GB. Principles of exodontia as applied to the impacted mandibular third molar. St. Louis: American Medical Books. 1926. Mosby Co. p. 21-58. 35. Amin MM, Laskin DM. Prophylactic use of indomethacin for prevention of postsurgical complications after removal of impacted third molars. Oral Surg 1983;55:448-51. 36. Arenaz-Búa J, Luaces-Rey R, Sironvalle-Soliva S, Patiño-Seijas B, García-Rozado A, Martín-Sastre R, Ferreras-Granados J, Lorenzo-Franco F, Vázquez-Mahía I, López-Cedrún JL. A comparative study of platelet-rich plasma, hydroxyapatite, demineralized bone matrix and autologous bone to promote bone regeneration after mandibular impacted third molar extraction. Med Oral Patol Oral Cir Bucal. 2010 May 1;15 (3): 483-9. 37. Simon D, Manuel S, Geetha V: Potential for osseous regeneration of plateletrich plasma---A comparative study in mandibular third molar sockets. Indian J Dent Res 2004; 15:133. 38. Mansuri S, Mujeeb A, Hussain SA, Hussain MA. Mandibular third molar impactions in male adults: Relationship of Operative time and Types of impaction on inflammatory complications. J Int Oral Health. 2014; 6 (2): 9-15. 39. Bello SA, Adeyemo WL, Bamgbose BO, Obi EV, Adeyinka AA. Effect of age, impaction types and operative time on inflammatory tissue reactions following lower third molar surgery. Head Face Med. 2011; 28 (7):8. 40. Harrison JA, Nixon MA, Fright WR, Snape L. Use of hand-held laser scanning in the assessment of facial swelling: a preliminary study. Br J Oral Maxillofac Surg. 2004 Feb; 42 (1) :8-17. 41. Yip E, Smith A, Yoshino M. Volumetric evaluation of facial swelling utilizing a 3-D range camera. Int J Oral Maxillofac Surg. 2004; 33 (2): 179-82. 42. Jadad AR, Moore RA, Carroll D, Jenkinson C, Reynolds DJ, Gavaghan DJ, et al.Assessing the quality of reports of randomized clinical trials: is blinding necessary? Controlled Clinical Trials. 1996; 17(1): 1–12.