Publication:
Monstruos y fragmentos en la representación de un cuerpo actual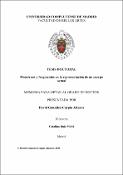 Files
Advisors (or tutors)
Editors
Publisher
Universidad Complutense de Madrid
Abstract
Cuando Mary Shelley engendra vida de fragmentos unidos de materia orgánica muerta en su novela Frankenstein, no solo está engendrando vida al monstruo en sí, también está engendrando el mito inaugural del monstruo moderno. Los monstruos son esos seres que suscitan admiración y terror, y que han sido clasificados como prodigios y abominaciones que atraen a los mirones. De un modo u otro, en una u otra época, la especie humana no puede permanecer impasible ante sus monstruos. Ante un cuerpo que traspasa las fronteras de la "normalidad" establecemos una serie de explicaciones y justificaciones que basculan entre lo real, la fantasía y el extrañamiento. Fiel reflejo de esto ha sido el cine a lo largo del siglo XX, como los clásicos del cine de terror. En ciertos monstruos contemporáneos carecemos de estas referencias, sus estados se mantienen en trasformación y metamorfosis. Quizás los monstruos más acordes con la sociedad actual, constante metamorfosis, se caracterizan por lo inestable, lo azaroso, lo irregular, y fundamentalmente, por lo fragmentario. Se aborda así lo fragmentario aplicado a la retórica del cuerpo y sus expresiones artísticas. La fragmentación corporal es un recurso artístico que se ve intensamente potenciado en la última mitad del siglo XX, y de manera absoluta en el siglo XXI, con gran variedad de recursos, diversos niveles de intensidad y diferentes grados de sutileza. Tanto de manera física, psicológica o simbólica. En esta retórica del cuerpo, la fragmentación puede aludir a la totalidad de éste, pero el fragmento puede llegar a adquirir por sí solo una contundente autonomía...
When Mary Shelley begets life from joined fragments of dead organic matter inher novel Frankenstein, she is not only begetting life to the monster itself, she is also begetting the inaugural myth of the modern monster. Monsters are those beings that arouse admiration and terror, and have been classified as prodigies and abominations that attract gawkers. In one way or another, in one era or another, the human species cannot remain impassive in the face of its monsters. Faced with a body that crosses the frontiers of "normality", we establish a series of explanations and justifications that swing between reality, fantasy and estrangement. A faithful reflection of this has been the cinema throughout the 20th century, such as the classics of horror films. In certain contemporary monsters we lack these references, their states remain in transformation and metamorphosis. Perhaps the monsters most in keeping with today's society, in constant metamorphosis, are characterised by the unstable, the random, the irregular, and fundamentally, by the fragmentary. The fragmentary is thus applied to the rhetoric of the body and its artistic expressions. Fragmentation of the body is an artistic resource that has been intensely promoted in the last half of the 20th century, and in an absolute way in the 21st century, with a great variety of resources, different levels of intensity and different degrees of subtlety. Whether physically, psychologically or symbolically. In this rhetoric of the body, fragmentation can allude to the totality of the body, but the fragment can acquire a forceful autonomy on its own...
Description
Tesis inédita de la Universidad Complutense de Madrid, Facultad de Bellas Artes, leída el 21-12-2022
Collections