Publication:
El archivo de la villa de Madrid en la Alta Edad Moderna (1556-1606)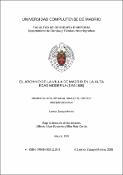 Files
Authors
Advisors (or tutors)
Editors
Publisher
Universidad Complutense de Madrid, Servicio de Publicaciones
Abstract
Esta tesis estudia la desde un punto de vista histórico los archivos del Concejo madrileño en la Alta Edad Moderna, que fueron el germen del actual Archivo de la Villa de Madrid, cuyos fondos han sido fundamentales para esta investigación. Analiza la evolución material de los archivos municipales, los mecanismos que el Ayuntamiento desplegó para recuperar documentos públicos dispersos, la realización de inventarios de documentación (acabase o no archivada) y el uso que el Concejo daba a la documentación archivada. También se centra en los oficiales que se ocupaban de todo ello: los regidores llaveros, los archiveros y los escribanos del Concejo, sobre quienes se realiza un seguimiento de sus labores documentales y archivísticas, método que permite vislumbrar sus perfiles laborales, pese a la inexistencia de unas ordenanzas de ese archivo en la época. Aunque el concejo madrileño comprendía que el archivo tenía que ser un lugar ordenado e inventariado, y aunque otorgaba cierta importancia a sus archivos e invertía tiempo y dinero en ellos para mejorarlos, todos sus cuidados resultaban insuficientes y solían ir a remolque de las fallas detectadas en los archivos, porque su habitual desorden impedía localizar los documentos cuando se necesitaban, y su mal estado de conservación ponía en peligro su integridad. Esto venía provocado porque la mayoría de las propuestas para arreglarlos eran soluciones a posteriori, no medidas adoptadas a priori. Tomada conciencia de lo que ya era un problema archivístico se intentaba remediar, empero, de forma puntual y asistemática. Esos problemas eran en parte consecuencia de que el interés que suscitaba el archivo no venía motivado por razones puramente archivísticas, sino fiscales, políticas y administrativas. Esa consideración del archivo como un instrumento político secundario al servicio del gobierno municipal, sumada a que el ayuntamiento carecía de unas ordenanzas específicas del archivo, indica que el concejo se hallaba en una época prearchivística.[ABSTRACT]This doctoral dissertation studies the Archivo de la Villa de Madrid (the municipal Archive of the Madrid Township) in the Early Modern period. The investigation is structured in the following way. On one hand, it focuses on the Madrid Town Hall archives and the municipal documentation. It studies the material evolution of the archives, the mechanisms used by the institution to recuperate public documents, the creation of inventories and the manipulation of the archival documents by the Town Council. On the other hand, it focuses on the people that took charge of the archives and of the municipal documents, principally the key-keeping aldermen, the archivists and the Council scriveners, presenting a study of their labours. Through this investigation I examine the importance that the Town Council gave to the archive. The institution had a very clear idea of what an archive should be, that is to say, a controlled, ordered and inventoried environment. However, the reality was often quite different, and improvements always came far behind the grave problems detected in the archive; they were ad hoc solutions adopted a posteriori and not a priori. In part, this was owing to the fact that the Council had no systemized theoretical principles governing the archive's character, and considered it of secondary importance to its political and economic concerns. Thus, it can be stated that the Town Council of Madrid found itself in a pre-archival period.
Description
Tesis de la Universidad Complutense de Madrid, Facultad de Geografía e Historia, Departamento de Ciencias Técnicas e Historiográficas, leída el 16-09-2008
Collections