Publication:
Factores psicosociales relacionados con la recuperación en la esquizofrenia : trauma en la infancia, regulación emocional y apego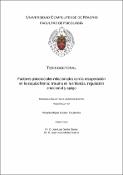 Files
Advisors (or tutors)
Editors
Publisher
Universidad Complutense de Madrid
Abstract
Desde mediados del siglo XX, diversos colectivos de pacientes con esquizofrenia se han opuesto a la visión pesimista del trastorno esbozada por los primeros modelos psiquiátricos (Kraepelin, 1919), planteando que la recuperación personal es factible. Sus testimonios se han visto apoyados por los resultados de numerosos estudios en los que se ha comprobado que la esquizofrenia tiene un pronóstico heterogéneo que abarca desde la cronicidad de los síntomas clínicos, hasta su remisión completa (Guloksuz & van Os, 2018). Ambos factores han promovido que, en las últimas décadas, el interés por el concepto de recuperación en la esquizofrenia haya crecido de una forma muy notable (Vita & Barlati, 2018).Un fenómeno que se ha asociado de forma consistente con una peor recuperación en personas con esquizofrenia es el trauma infantil (Trotta et al., 2015). Pese a ello, resulta escasa la investigación sobre los posibles mecanismos explicativos de esta relación...
Since the mid-20th century, several collectives of patients with schizophrenia have opposed the pessimistic view of the disorder outlined by early psychiatric models (Kraepelin, 1919), arguing that personal recovery is possible. Their testimonies have been supported by the results of multiple studies in which schizophrenia has been shown to have a heterogeneous prognosis ranging from chronicity to complete remission of clinical symptoms (Guloksuz & van Os, 2018). Both factors have in the last decades contributed to a significant growth of interest in the concept of recovery from schizophrenia (Vita & Barlati, 2018).A phenomenon that has been consistently associated with a worse perspective of recovery from schizophrenia is childhood trauma (Trotta et al., 2015). Despite this, there is scant research on possible explanatory mechanisms of the relationship between recovery from schizophrenia and childhood trauma...
Description
Tesis inédita de la Universidad Complutense de Madrid, Facultad de Psicología, leída el 06-10-2021
Collections