Publication:
FGF23: Nueva diana terapéutica en los trastornos de la homeostasis del fósforo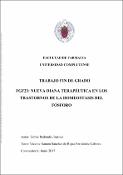 Authors
Advisors (or tutors)
Editors
Abstract
El tejido óseo representa la mayor parte del esqueleto, el cual cubre nuestros órganos y sostiene nuestra fisiología, y se encuentra en constante renovación. Sus funciones básicas son de soporte, protección, movimiento, homeostasis mineral, producción de células sanguíneas y almacén de grasas de reserva (médula amarilla). El calcio y el fósforo son los principales componentes del hueso, siendo responsables del 65% de su peso [1]. El mantenimiento del fosfato sérico dentro de su rango normal permite una mineralización óptima del hueso sin deposición en tejidos vasculares y otros tejidos blandos. Un adulto tiene una media de 1 kg de fósforo, del cual el 85% se encuentra en el esqueleto. En el plasma, la mayoría se encuentra en forma de ortofosfato inorgánico, siguiendo además una variación circadiana. El principal órgano regulador de estos niveles es el riñón, excretando de un 10 a un 15% del fósforo total filtrado. Cuando es ingerido, se absorbe en el intestino en su práctica totalidad. En la célula, la mayoría se localiza intracelularmente y es intercambiable: su homeostasis, al igual que la del calcio, será regulada por la hormona paratiroidea, la vitamina D y la calcitonina. En los últimos años, han salido a la luz un importante número de trabajos que esclarecen la existencia de factores con importante acción regulatoria en la homeostasis del fósforo; fueron llamados "fosfatoninas", de la familia de los factores de crecimiento fibroblástico (FGF). De todos sus miembros, el más caracterizado es el FGF23. Resulta significativo el estudio de las enfermedades relacionadas con el metabolismo óseo y mineral, ya que es un campo donde al profundizar se puede llegar a la etiología de muchos problemas hoy en día no eficazmente tratados.
The bone tissue represents the greater part of the skeleton, which covers our organs and holds our body, and it is in constant renewal. Its basic functions are support, protection, movement, mineral homeostasis, production of blood cells and store of reserve fats (yellow marrow). Calcium and phosphorus are the main components of bone, accounting for 65% of their weight. As far as phosphorus is concerned, an adult has an average of 1 kg of phosphorus in Este trabajo tiene una finalidad docente. La Facultad de Farmacia no se hace responsable de la información contenida en el mismo. 4 its body, 85% of which is in the skeleton. In plasma, most of it is in the form of inorganic orthophosphate, also following a circadian variation. The main regulating organ of these levels is the kidney, excreting from 10 to 15% of the filtered total phosphorus. When it is ingested, it is absorbed in the intestine in its entirety. In the cell, most are located intracellularly and are interchangeable: their homeostasis, like in the case of calcium, will be regulated by parathyroid hormone, vitamin D, and calcitonin. In recent years, a significant number of researches have emerged that clarify the existence of factors with important regulatory actions on phosphorus homeostasis; those were called "phosphatonins" from the fibroblast growth factors' family (FGF). Of all its members, the most characterized is the FGF23. It is important the study of diseases related to bone and mineral metabolism, since it is a field where the depth can reach the etiology of many diseases which nowadays are not effectively treated.