Publication:
Daño por radiación a nivel molecular en aplicaciones biomédicas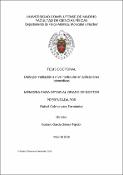 Files
Authors
Advisors (or tutors)
Editors
Publisher
Universidad Complutense de Madrid
Abstract
El papel de los electrones de energías bajas en el daño molecular en términos de roturas o disociaciones, independientemente del tipo de haz primario, es un campo de actualidad científica. Por un lado, los modelos teóricos de colisiones de electrones en medios condensados para energías menores de 100 eV presentan diferencias metodológicas y discrepancias importantes en los resultados. Por otro, a pesar de que el daño en el ADN se produce a escala molecular, no existe una teoría que permita relacionar la información a este nivel con el daño biologico observado o medido. De hecho, la dosis absorbida, pese a ser una magnitud macroscópica que pierde los detalles de la escala en la que se produce realmente el daño, es la magnitud de referencia en los tratamientos con radiaciones ionizantes. Los códigos Montecarlo de evento por evento (MCe), en los que la energía de corte en la simulación del transporte de electrones se sitúa en niveles tan bajos como sea posible, son una potente herramienta para estudiar las interacciones a escala molecular...
The role of low-energy electrons in molecular damage in terms of breaks or dissociations, regardless of the type of primary beam, is a scientific topic currently under study. On the one hand, the theoretical models of electron collisions in a condensed medium for energies lower than 100 eV present important methodological dierences and discrepancies in the results. On the other hand, despite the fact that the damage to the DNA is produced on a molecular scale, there is no theory that allows us to relate the information at this level with the observed or measured biological damage . In fact, the absorbed dose, despite being at a macroscopic quantity that loses the details of the scale in which the damagereally occurs, is the reference quantity in treatments with ionizing radiation.The event-by-event Monte Carlo codes (MCe), in which the cut-o energy in the simulation of electron transport is as low as possible, are a powerful tool for studying interactions at the molecular level...
Description
Tesis de la Universidad Complutense de Madrid, Facultad de Ciencias Físicas, Departamento de Física Atómica, Molecular y Nuclear, leída el 19-12-2018
Collections