Publication:
Metodología de valoración del paisaje empleando ArcGIS en la Cañada de Fuente Lagarto (Garganta de los Montes)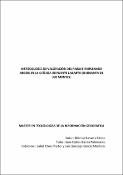 Authors
Advisors (or tutors)
Editors
Abstract
El objetivo de este estudio es desarrollar y validar una metodología de análisis paisajístico, mediante el uso de herramientas SIG, que sea útil para introducir un futuro uso recreativo en las vías pecuarias. Para testar la metodología propuesta se va realizar una valoración paisajística en un tramo de vía pecuaria situado en Garganta de los Montes, Lozoyuela, Navas y Sieteiglesias; denominada Cañada Fuente Lagarto. El software usado es ArcGIS 10.
Description
Máster de Tecnologías de la Información Geográfica. UCM.
Citation
Aguilo Alonso, M. et al. Guia Metodológica para Estudios del Medio Físico. Editorial: Ministerio de Medio Ambiente.2001. Arquitectura del Paisaje Rural de la Península Ibérica, Islas Baleares y Canarias. Frances Naves Vinas et al. Editorial-. Omega.2005. Bishop, I., 2008. Integration of augmented reality and GIS: A new approach to realistic landscape visualisation Landscape and Urban Planning 86 (2008) 226–232. Canas, I. Introducción al Paisaje. Unicopia. Lugo.1995. Centro Argentino de Arquitectos Paisajistas. www.caapaisajistas.org.ar Christopher J. Pettit, Christopher M. Raymondb, Brett A. Bryanc, Hayden Lewisa, 2011. Identifying strengths and weaknesses of landscape visualisation for effective communication of future alternatives. Landscape and Urban Planning 100 (2011) 231–241. Decreto 11/2005, de 15 de febrero, de la Consejería de Medio Ambiente y Ordenación Territorial del Gobierno de Canarias, mediante el cual se crea la Red Canaria de Senderos y se regulan las condiciones para la ordenación, homologación y conservación de los senderos en la Comunidad Autónoma de Canarias. BO Canarias, num. 41, de 28 de febrero de 2005. Escribano Bombin, Maria del Milagro. El Paisaje. Editorial MOPU. 1987. Guía Metodológica para Estudios del Medio Físico. Editorial: Ministerio de Medio Ambiente.2001. - http://es.wikipedia.org/wiki/Visibilidad Ley 3/1995 de Vías Pecuarias ,BOE de 23 de marzo. Ley 8/2005, de 8 de junio de 2005, de Protección, Gestión y Ordenación del Paisaje, en Cataluña. BOE de 8 de julio de 2005. Nila de Taranco. www.fundicot.org. 2005. Smardon, R.C. 1986. Historical Evolution of Visual Resource Management within Three Federal Agencies. Journal Environment Management. 22, 301 – 317.