Publication:
SP-D attenuates LPS-induced formation of human neutrophil extracellular traps (NETs), protecting pulmonary surfactant inactivation by NETs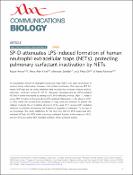 Advisors (or tutors)
Editors
Abstract
An exacerbated amount of neutrophil extracellular traps (NETs) can cause dysfunction of systems during inflammation. However, host proteins and factors that suppress NET formation (NETosis) are not clearly identified. Here we show that an innate immune collectin, pulmonary surfactant protein-D (SP-D), attenuates lipopolysaccharide (LPS)-mediated NETosis in human neutrophils by binding to LPS. SP-D deficiency in mice (Sftpd−/−) leads to excess NET formation in the lungs during LPS-mediated inflammation. In the absence of SP-D, NETs inhibit the surface-active properties of lung surfactant, essential to prevent the collapse of alveoli, the air breathing structures of the lungs. SP-D reverses NET-mediated inhibition of surfactant and restores the biophysical properties of surfactant. To the best of our knowledge, this study establishes for the first time that (i) SP-D suppresses LPS-mediated NETosis, (ii) NETs inhibit pulmonary surfactant function in the absence of SP-D, and (iii) SP-D can restore NET-mediated inhibition of the surfactant system.
Collections