Publication:
Los Borbones en el siglo XVIII, Señores de Chinchón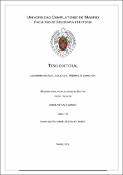 Authors
Advisors (or tutors)
Editors
Publisher
Universidad Complutense de Madrid
Abstract
El trabajo que se presenta a continuación plantea dos objetivos principales y claramente definidos. El primero de ellos es realizar una exposición detallada del discurrir diario de la existencia de los habitantes de la villa de Chinchón durante el Setecientos. El segundo es esclarecer en profundidad los cambios y las transformaciones que tuvieron lugar en ella con la venta de la propiedad del condado, por parte de sus titulares nobles, a varios infantes de la familia real a comienzos del siglo XVIII. Pero hasta alcanzar esa época concreta se ha ido haciendo un recorrido histórico previo, remontándonos –incluso- a sus orígenes, a su formación como aldea perteneciente a la jurisdicción de la ciudad de Segovia, a su constitución como capital condal y, finalmente, a la adquisición de la categoría de villa, con el honorífico título de Muy Noble y Muy Leal, otorgado por Felipe V, como premio, por su apoyo incondicional durante la Guerra de Sucesión a la Corona Española. En el transcurso de las siguientes páginas se describirá la evolución de la población de Chinchón a lo largo del Antiguo Régimen y no sólo como capital administrativa del condado sino como localidad con una pujanza demográfica y económica manifiesta. Estas circunstancias particulares de la villa unidas al patrocinio de sus condes la terminarían convirtiendo en cuna de algunas de las creaciones más típicas del Siglo de las Luces, dando lugar, por ejemplo, a una Real Fábrica de Aguardientes, a una Compañía de Comercio de inmigrados franceses o a una Real Sociedad Económica de Amigos del País...
This current work tackles two main and clearly defined goals. The former is to expose the daily life details of the inhabitants in Chinchón township during the 1700s; the latter, is to exxamine in depth the changes and the transformation that took place in it due to the sale of the shire property by the local aristocratic owners to some Royal Family members during the early years in the 17th century. The historical development of this transformation has been covered from its origins to its establishment as a hamlet belonging to the jurisdiction of Segovia the town, its promotion as the county capital and, finally, the status of village with the honourable title of Highly Noble, Highly Loyal, signed by Phillip V as a reward for their unconditional support during the War of the Spanish Succession. In the following pages, the evolution of the population in Chinchón will be described through the Ancien Régime, not only as the administrative capital of the county it was, but also as a locality with an obvious demographic and economic vigour. These particular circumstances of the village, together with the patronage of its earls, turned it into the birthplace of some of the most typical institutions in the Enlightenment, such as the Royal Factory of Spirits or the Trade Company of French Expatriates, as well as, the Royal Economic Society of Friends of the Country...
Description
Tesis inédita de la Universidad Complutense de Madrid, Facultad de Geografía e Historia, leída el 15/06/2022
Collections