Publication:
La Red Transeuropea de Ferrocarriles como instrumento federador de Europa 2001-2016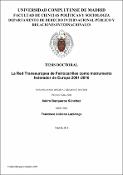 Files
Authors
Advisors (or tutors)
Editors
Publisher
Universidad Complutense de Madrid
Abstract
Han transcurrido sesenta años desde que en 1956 se publicase el Informe Spaak, antecedente remoto de lo que hoy son las redes transeuropeas de transporte. Las RTE-T son una política central en el marco de la Unión Europea, imbuidas en el principio de la subsidiariedad, y elemento clave para la articulación del mercado común. Desde sus orígenes hasta la actualidad la aproximación a las mismas ha ido variando de forma sustancial pero siempre ha existido un planteamiento de base: que juntos somos más fuertes. Así, el objetivo de la presente memoria para optar al grado de doctor es la profundización en el estudio de los fenómenos relacionados con los procesos de integración política, social y económica a través de las grandes infraestructuras de transporte y muy singularmente en aquellos inducidos por el medio ferroviario. Este análisis parte de una aproximación a los fenómenos de una forma diacrónica y se realiza en términos de proceso, aplicándose el mismo al estudio del contexto comunitario europeo actual...
Sixty years have passed since the Spaak Report was publish in 1956, distant precedent of todaýs European transport networks. The TEN-T are a central policy in the EU, imbued in the principle of subsidiarity and key element for the articulation of the common market. These networks have undergone substantial changes from their original state but the basic approach remains the same: we are stronger together. Thus, the aim of this report for being eligible for the doctorate degree is delve into the study of the phenomena related to the processes of political, social and economic integration through the extent transport infrastructure and specifically those triggered by the railway. This analysis approaches these phenomena in a diachronic way and is carried out in terms of process, the study of the present common European context being where the analysis is applied...
Description
Tesis inédita de la Universidad Complutense de Madrid, Facultad de Ciencias Políticas y Sociología, Departamento de Derecho Internacional Público y Relaciones Internacionales (Estudios Internacionales), leída el 04/07/2017
Collections