Publication:
Música, textos y filantropía en Esmeralda Cervantes: una arpista de la España romántica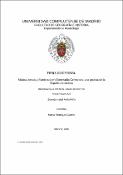 Files
Authors
Advisors (or tutors)
Editors
Publisher
Universidad Complutense de Madrid
Abstract
La investigación acerca de esta arpista, compositora, profesora, escritora y gestora catalana, de pensamiento liberal y feminista, y de acciones filantrópicas, fue realizada básicamente a través de escritos de prensa española y extranjera. Su madre recopilará durante veinte años un valioso álbum que resume la vida artística de Esmeralda, desde los 13 hasta los 33 años; el mismo se conserva en la Biblioteca de Catalunya (Barcelona) en proceso de restauración, pero ha podido ser consultado y digitalizado. Los múltiples viajes que realizó como intérprete solista, dan como resultado una documentación dispersa en el mundo que ha sido muy difícil de recolectar. Clotilde Cerdà i Bosch (Barcelona 28-02-1861 – Sta. Cruz de Tenerife 12-04-1926), usa el seudónimo Esmeralda Cervantes propuesto por Victor Hugo e Isabel II de Borbón. Nace de padres intelectuales, Ildefonso Cerdà i Sunyer (urbanista, autor del Eixemple de Barcelona) y Clotilde Bosch (pintora, hija de un banquero). Los padres se separan cuando la niña tiene 3 años y desde entonces vive en la única compañía materna. Protegida por Isabel II de Borbón y la Condesa de Montijo, se forma en París y Viena como intérprete del arpa. En París vivía con la desterrada reina Isabel II, en el Palacio Blavatsky, donde su madre era dama de honor. El texto subsiguiente está estructurado en nueve apartados. Los dos primeros refieren cronológicamente el entorno, los estudios y las primeras actuaciones musicales de la intérprete en Europa y las Américas, con remarcados éxitos. El tercer capítulo deja ver el ingreso de Esmeralda Cervantes en el mundo periodístico con la fundación de su primer periódico L'Étoile Polaire en París y la segunda gira americana de conciertos, más breve que la anterior...
Research on this harpist, composer, teacher, writer and Catalan manager of liberal, feminist thought and philanthropic activities. This research was conducted mainly through writings of Spanish and foreign press. Her mother collected for twenty years a valuable album that summarizes the artistic life of Esmeralda, from the age of 13 up to the age of 33. This album which is preserved in the Library of Catalonia (Barcelona) and which is being restored at present has been consulted and digitized. As a result of her many trips during which she performed as soloist, the documentation is sparsed in the world and it has therefore been very difficult to collect. Clotilde Cerdà i Bosch (Barcelona 01/28/1861 - Sta. Cruz de Tenerife 12.04.1926), used the pseudonym "Esmeralda Cervantes" that was proposed by Victor Hugo and Isabel II of Bourbon. Born of intellectual parents, Ildefonso Cerdà i Sunyer (city planner, author of Eixemple of Barcelona) and Clotilde Bosch (painter and the daughter of a banker). Her parents separated when the child was only 3 years old since then she lived with the only company of her mother. She was protected by Isabel II of Bourbon and the Countess de Montijo, She was educated in Paris and Vienna as an interpreter of the harp. In Paris she lived with the exiled Queen Elizabeth II in Blavatsky Palace where her mother was maid of honor. A subsequent text is divided into nine sections. The first two relate chronologically to her entourage and her first musical performances in Europe and the Americas which were remarkably successesful. The third chapter reveals the entry of Esmeralda Cervantes into the world of journalists with the founding of her first newspaper L'Etoile Polaire in Paris and the second American concert tour, which was shorter than the previous one...
Description
Tesis inédita de la Universidad Complutense de Madrid, Facultad de Geografía e Historia, Departamento de Musicología, leída el 26-01-2016
Collections