Publication:
Sistema de alerta sísmica temprana para el sur de la Península Ibérica: determinación de los parámetros de la alerta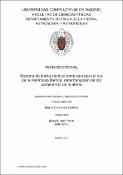 Files
Authors
Advisors (or tutors)
Editors
Publisher
Universidad Complutense de Madrid
Abstract
Los Sistemas de Alerta Sísmica Temprana (EEWS, por las siglas en inglés) son unas de las herramientas más eficaces desarrolladas en los últimos años para prevenir y minimizar los daños ocasionados por los terremotos. La región Ibero-Mogrebí (RIM), es una zona de gran complejidad sismotectónica capaz de generar grandes terremotos destructivos, por lo que disponer de un sistema de este tipo suscita un gran interés. El objetivo de esta tesis doctoral es determinar los parámetros característicos de un sistema de alerta sísmica temprana para la RIM y establecer leyes empíricas que permitan el cálculo rápido de la magnitud Mw y del daño potencial para terremotos ocurridos en esta región. Para ello se han determinado, a partir de una base de datos de terremotos de la región y registros de banda ancha de estaciones de la zona, los parámetros de alerta pico de desplazamiento Pd y periodo promedio Tc en una ventana de tiempo de 3s. Debido a la inhomogeneidad de las magnitudes del catálogo de la RIM, ha sido necesaria su conversión a una magnitud homogénea Mw. A causa de la baja relación señal-ruido de los registros se ha establecido un criterio basado en ella para determinar la calidad de los mismos y cuáles pueden ser utilizados en un SAST. Los parámetros Pd y Tc se han relacionado de forma empírica con la magnitud Mw y el pico de velocidad máxima del suelo PGV. De esta forma se han obtenido las tres primeras correlaciones para SAST en la región Ibero-Mogrebí...
Earthquake Early Warning Systems (EEWS) are one of the most effective tools developed in latest years to prevent and reduce the damage caused by earthquakes. The Ibero-Maghrebian region (RIM) is an area of great complexity able to generate large and destructive earthquakes, which make it of a great interest for developing an EEWS for the region. The objective of this PhD is to determine the characteristic parameters of an EEWS and develop the empirical correlations that allow a rapid estimation of magnitude Mw and the potential damage for earthquakes occurring in this region. To this end, we have estimated the peak displacement Pd and predominant Tc period parameters in a 3-second time window with a database formed by earthquakes occurred at region and broadband records from velocity stations in the area. Due to the inhomogeneity of the magnitudes of the catalogue at the RIM it has been necessary a previous conversion to a homogenous magnitude Mw. Since there are several records with a low signal to noise ratio, we have established a quality criteria based on it to set the quality of the records and which of them could be used for an EEWS. The Pd and Tc parameters have been empirically correlated with the magnitude Mw and peak ground velocity PGV. As a result, we have obtained the first three correlations for an EEWS at the Ibero-Maghrebian region...
Description
Tesis inédita de la Universidad Complutense de Madrid, Facultad de Ciencias Físicas, Departamento de Física de la Tierra, Astronomía y Astrofísica I (Geofísica y Meteorología) (Astronomía y Geodesia), leída el 07/11/2016
Collections