Publication:
Aportación de la ecografía musculoesquelética en la detección de alteraciones subclínicas en pacientes con enfermedades reumáticas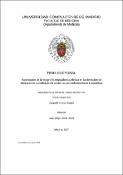 Authors
Advisors (or tutors)
Editors
Publisher
Universidad Complutense de Madrid
Abstract
Se entiende como alteración subclínica aquella anormalidad morfológica inflamatoria y/o estructural que no causa síntomas ni signos clínicos en un momento dado. El detectar cambios morfológicos subclínicos mediante ecografía musculoesquelética (EM) puede tener un potencial valor clasificatorio, diagnostico, terapéutico y pronóstico. Esta tesis, agrupa tres estudios publicados, que investigan la utilidad diagnóstica de la EM en la detección de las alteraciones subclínicas de pacientes con enfermedades reumáticas. 1. Detección ecográfica de depósitos de cristales de urato monosódico: que articulaciones y que hallazgos son necesarios para diagnosticar gota (1). Este es estudio caso-control transversal multicéntrico con tres objetivos: estudiar el valor diagnóstico de la EM en la detección de depósitos de cristales de urato monosódico en miembros superiores y en miembros inferiores, seleccionar una combinación mínima de estructuras y localizaciones anatómicas para el diagnóstico de gota y estudiar la validez concurrente de las alteraciones EM frente a la demostración microscópica de cristales mediante punción aspiración eco guiada. Se incluyó a 91 pacientes con gota primaria y 42 controles pareados por edad. Se realizó en todos los sujetos una exploración ecográfica para detectar agregados hiperecoicos y signo del doble contorno en 26 articulaciones, 6 bursas, 8 tendones, 20 compartimentos tendinosos, 4 ligamentos y 18 cartílagos articulares. Todos los ecografistas eran expertos y no disponían de información clínica. A los pacientes con gota y con alteraciones ecográficas se les realizó una aspiración eco-guiada para identificar los cristales de UMS por microscopía. Se evaluó la fiabilidad del estudio ecográfico interobservador e intraobservador mediante la lectura de imágenes electrónicas. Para definir la combinación óptima de alteraciones ecográficas diagnósticas de gota y las localizaciones, primero se investigó que combinaciones de articulaciones, bursas, cartílagos, tendones y ligamentos estaban más frecuentemente afectadas en pacientes con gota. El segundo paso, fue calcular por separado la sensibilidad y especificidad para cada combinación obtenida del paso anterior para así determinar que combinaciones mostraban una mejor sensibilidad y especificidad. En el tercer paso, se mezcló las tres combinaciones con mejor sensibilidad y especificidad. A continuación, se extrajeron las estructuras anatómicas del modelo mezclado para obtener la combinación mínima de alteraciones ecográficas y anatómicas con mejor balance entre sensibilidad y especificidad para el diagnóstico de gota. Se calcularon para todas las combinaciones el valor predictivo positivo y negativo...
Subclinical abnormalities denote inflammatory or structural morphologic alterations without manifest clinical signs or symptoms. Musculoskeletal ultrasonography (US) has the capability to detect morphologic subclinical abnormalities and can play an important classification, diagnostic, therapeutic and prognostic role in different rheumatic diseases. This doctoral thesis comprises three studies that have assessed the diagnostic role of MU in the detection of subclinical abnormalities in rheumatic diseases. 1. Ultrasound-detected musculoskeletal urate crystal deposition: which joints and what findings should be assessed for diagnosing gout ? (1). The primary objective of this prospective case-control study was to assess the diagnostic value of several intra-articular and periarticular ultrasound (US) detected abnormalities in the upper and lower limbs in gout. The secondary objective was to test the concurrent validity of US abnormalities using as gold standard the microscopic demonstration of monosodium urate (MSU) crystals. Ninety-one men with gout and 42 age- matched controls were prospectively recruited. All patients with gout and controls underwent US assessment of several US abnormalities in 26 joints, six bursae, eight tendons, 20 tendon compartments, four ligaments, and 18 articular cartilages by experts in US blinded to the patients' group. Patients with gout and controls with US abnormalities were asked to undergo US-guided aspiration for microscopic identification of MSU crystals. Interobserver and intraobserver reliability of the US assessment was evaluated in a webbased exercise. The assessment of one joint (ie, radiocarpal joint) for hyperechoic aggregates (HAGs), two tendons (ie, patellar tendon and triceps tendon) for HAGs and three articular cartilages (ie, first metatarsal, talar and second metacarpal/femoral) for double contour sign showed the best balance between sensitivity and specificity (84.6% and 83.3%, respectively). Intraobserver reliability was good (mean κ 0.75) and interobserver reliability was moderate (κ 0.52). The aspirated material from HAGs was positive for MSU crystals in 77.6% of patients with gout and negative in all controls. In conclusions our results suggest that US bilateral assessment of one joint, three articular cartilages and two tendons may be valid for diagnosing gout with acceptable sensitivity and specificity...
Description
Tesis inédita de la Universidad Complutense de Madrid, Facultad de Medicina, Departamento de Medicina, leída el 05-02-2016
Collections