Publication:
Estudio del efecto de la cobertura árborea de la encina ("Quercus'ilex"subsp."ballota") sobre algunos factores físicoquímicos en la Dehesa de Boadilla del Monte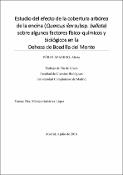 Authors
Advisors (or tutors)
Editors
Abstract
Con el objetivo de discernir las relaciones existentes entre los factores físico-químicos y biológicos de la dehesa de Boadilla del Monte, realizamos un muestreo en 16 parcelas tomando como factor explicativo principal el efecto de la cobertura arbórea de las encinas (Quercus ilex subsp. ballota) sobre los distintos elementos. Analizamos los datos obtenidos para describir la zona y responder varias hipótesis. Los resultados estadísticos obtenidos indican que la cobertura de la encina ejerce una influencia significativa directa negativa sobre las comunidades vegetales y positiva sobre las características físico-químicas del suelo y los procesos edáficos mediante las variaciones del contenido de materia orgánica (CMO) y peso de hojarasca del medio. La abundancia de ácaros gamásidos no se explica por la presencia de la encina, sino a través de la distribución de ácaros oribátidos. También comparamos el proceso de mineralización llevado a cabo por la microfauna edáfica y la actividad añadida de una lombriz característica de la zona (Hormogaster elisae) que crece de forma indiferente en uno y otro tipo de suelo, viendo que en conjunto producen un efecto sinérgico sobre la mineralización. Sin embargo, el factor principal que afecta a la mineralización es el CMO, determinado por la cobertura arbórea. Queda así demostrado que la presencia de árboles aislados favorece la creación de condiciones físico-químicas específicas y, con ello, de comunidades y procesos biológicos únicos y dignos de conservación. Palabras clave: dehesa, encina (Quercus ilex), Región Mediterránea, Sistema agrosilvopastoral, Boadilla del Monte, efecto de la cobertura, mineralización, Hormogaster elisae.
In the aim of establishing the relationships between the physic-chemical and biological factors in the grassland of Boadilla del Monte, we conducted a 16 plot sampling in the region, considering the effect of the oak tree (Quercus ilex subsp. ballota) canopy as the main factor explaining the variation of several elements. We generated and analyzed a dataset to describe the area and answer our secondary hypothesis. The statistical results obtained showed that the oak tree canopy has a significantly negative direct influence on the vegetal communities and a positive one on the soil physic-chemical characteristics and edaphic processes, explained 3 through the variations in soil organic matter content (SOM) and litter weight under the tree. However, the abundance of gamasid mites does not seem to be explained directly by the presence of the tree, but indirectly by that of oribatid mites. On the other hand, we compared the mineralization process carried out by the edaphic microfauna to the added activity of an earthworm typical of the studied region (Hormogaster elisae). We found that, although the edaphic macrofauna plays a significant role in increasing the soil respiration, the main factor altering the mineralization process is the soil organic matter content, once again, explained by the tree canopy of Q. ilex. sNevertheless, the SOM does not affect the growth rate of this species, due to its adaptation to oligotrophic soils. Thereby, this study shows that the presence of isled trees favors the creation of specific physic-chemical conditions and, in consequence, unique biological communities and processes worthy of conservation efforts.