Publication:
Pronóstico del carcinoma de cérvix en relación a su perfil molecular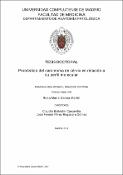 Files
Authors
Advisors (or tutors)
Editors
Publisher
Universidad Complutense de Madrid
Abstract
Introducción: La distinta evolución de las pacientes con carcinoma de cérvix avanzado avoca a buscar nuevos marcadores moleculares, que pudieran manifestar alguna diferencia significativa, que permitiera personalizar los tratamientos para conseguir una mejora en la evolución de la enfermedad. En este estudio se evaluó además de los factores pronósticos clínicos, el factor de proliferación, medido por la expresión de Ki67, la angiogénesis con el marcaje de microvasos por CD34, y los factores reguladores del ciclo celular p53 y p21waf. Material y Métodos: El estudio comprende 186 pacientes con carcinoma de cérvix avanzado tratadas solo con radioterapia y quimioterapia concomitante. Los factores clínicos seleccionados para este estudio fueron: el estado general del paciente (ECOG), el estadío FIGO, el tipo de tumor, el tamaño tumoral y la afectación ganglionar. Se realizaron los estudios de hematoxilina-eosina y técnicas inmunohistoquímicas para la expresión de las proteínas Ki67, CD34, p53 y p21waf. Se elaboraron los estudios estadísticos para relacionar cada una de los factores, tanto clínicos como moleculares, con la supervivencia global, la supervivencia libre de progresión y la supervivencia libre de fracaso local, y también para analizar la relación entre las proteínas estudiadas...
Patients with advanced cervical carcinoma present differences in their prognosis during the evolution of the disease. The identification of new molecular marker in advanced cervical carcinoma could contribute not only for diagnostic and prognostic purposes but also for the detection of potential therapeutic targets in advanced cervical carcinomas. In this study, different clinical prognostic factors and molecular markers, including the proliferative marker Ki67, microvessels labeled by CD34 and the cell cycle regulatory factors p53 and p21waf were evaluated in a series of advanced cervical carcinoma specimens. Material and methods: In total, 186 patients with advanced cervical carcinoma were included in this study. Hematoxylin-eosin stain and immunohistochemical techniques for the detection of Ki67, CD34, p53 and p21waf expression were performed in all the cases. Statistical studies were performed to correlate each of the clinical factors and molecular markers to the overall survival, progression-free survival and local failure-free survival. Analyses for the correlation between the different molecular markers were also performed. Results: In this study, distinct clinical factors, including general patient status (ECOG), FIGO stage, tumor size and nodal involvement, correlated to overall survival, progression-free survival and local failure-free survival in patients with advanced cervical carcinoma. Regarding the molecular markers studied, only the expression of Ki67 presented a significant influence in patient survival. It was also detected a significant correlation between p53 and p21waf expression in advanced cervical carcinoma...
Description
Tesis inédita de la Universidad Complutense de Madrid, Facultad de Medicina, Departamento de Anatomía Patológica, leída el 29/06/2017
Collections