Publication:
Los restos humanos craneales de Cova Negra, Valencia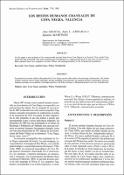 Advisors (or tutors)
Editors
Publisher
Sociedad Española de Paleontología
Abstract
Se presenta un nuevo análisis del parietal de Cava Negra que ha sido objeto de una larga controvers ia. Así mismo se dan a conocer nuevos restos craneales. El más completo corresponde a un parietal derecho fueflemente alterado. Ambos parietales se encuadran cronológicamente en el Würm antiguo y filogenéticamente entre los Neandertales.
In this paper a new analysis of the controversial parietal bone from Cava Negra is performed. New cranial fragments are a150 presented. The most complete one corresponds 10 a right parietal bone in bad state of prcservalion. 80th parietal bones are assigned to Lower Würm and phylogenetically to the Neandertal population.
Collections