Publication:
Genetic and phenotypic characterization of Toxoplasma gondii isolates obtained from sheep and Iberian pigs in Spain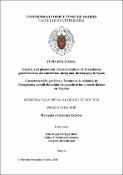 Authors
Advisors (or tutors)
Editors
Publisher
Universidad Complutense de Madrid
Abstract
Toxoplasma gondii is an apicomplexan parasite globally distributed with a heteroxenous life cycle that virtually comprises all homoeothermic animals, including humans, as intermediate hosts and felids as definitive hosts. The zoonotic, abortifacient, and foodborne nature of the parasite makes toxoplasmosis a relevant public and animal health concern worldwide.A comprehensive research effort on T. gondii biology along with the rapid development of molecular techniques suitable for strains genotyping over the last decades, led to the initial description of a widely clonal European and North American T. gondii genetic population dominated by three main clonal genetic types (I, II, and III), in contrast to an extremely diverse South American population. However, the information available from Europe is limited, with frequent methodological deficiencies and important sampling disparities among regions. Briefly, the available European literature evidences a clear predominance of type II strains (comprising around 80% of samples) coexisting with much less abundant type III and recombinant strains or mixed infections, as well as minor proportions of type I and imported genotypes. In the specific case of Spain, the majority of the scarce investigations dealt with direct genotyping from clinical samples, with the subsequent limitations to classify the strains and the impossibility of extending its characterization...
Toxoplasma gondii es un parásito apicomplejo de distribución mundial con un ciclo biológico heteroxeno que prácticamente comprende a todos los animales homeotermos, incluidos los seres humanos, como hospedadores intermediarios, y a los felinos como únicos hospedadores definitivos. El carácter de agente abortigénico, y la naturaleza zoonósica y de transmisión alimentaria de la infección por T. gondii hacen que la toxoplasmosis sea una preocupación importante para la salud pública y animal en todo el mundo. Durante las últimas décadas, los importantes esfuerzos de investigación enfocados a estudiar la biología de T. gondii junto con el rápido desarrollo de técnicas moleculares adecuadas para el genotipado de los aislados, llevaron, inicialmente, a la descripción de una población de T. gondii predominantemente clonal en Europa y Norteamérica dominada por tres tipos genéticos clonales principales (I, II y III), en contraste con una población extremadamente diversa en Sudamérica. Sin embargo, la información disponible en Europa es bastante limitada, con frecuentes deficiencias metodológicas en los estudios e importantes disparidades de muestreo entre regiones. En resumen, la literatura europea disponible evidencia un claro predominio de cepas tipo II (que comprenden alrededor del 80% de las muestras) coexistiendo con cepas tipo III y recombinantes o infecciones mixtas mucho menos abundantes, así como muy escasos genotipos tipo I e importados. En el caso concreto de España, la mayoría de las escasas investigaciones realizaron el genotipado directo de muestras clínicas, con las consiguientes limitaciones para clasificar las cepas y la imposibilidad de ampliar su caracterización...
Description
Tesis inédita de la Universidad Complutense de Madrid, Facultad de Veterinaria, Departamento de Sanidad Animal, leída el 22-07-2021
Collections