Publication:
La mediación y la negociación políticas: algunas cuestiones de debate en torno a una estrategia provechosa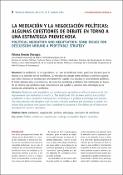 Authors
Advisors (or tutors)
Editors
Publisher
Instituto Motivacional Estratégico; Colegio Oficial de Psicológicos de Madrid; Universidad Carlos III de Madrid
Abstract
La mediación y la negociación, se van extendiendo como prácticas eficaces para la mejora y la solución de los conflictos. La vinculación secular entre política y conflicto supone que estas técnicas se encuentren estrechamente ligadas a la práctica y conocimiento políticos. El texto plantea esta circunstancia, así como los problemas y dilemas más habituales en busca de un debate que produzca unas conclusiones que ayuden a avanzar esta estrategia en la resolución alternativa de conflictos.
Mediation and negotiation are continuously spreading as efficient practices for the improvement and resolution of conflicts. The traditional link between politics and conflict establishes a close connection between both techniques to political knowledge and practice. The text presents this situation and the most common problems and dilemmas in search of a debate that produces conclusions that contribute to progress in the definition of alternative strategies for conflict resolution.
Collections